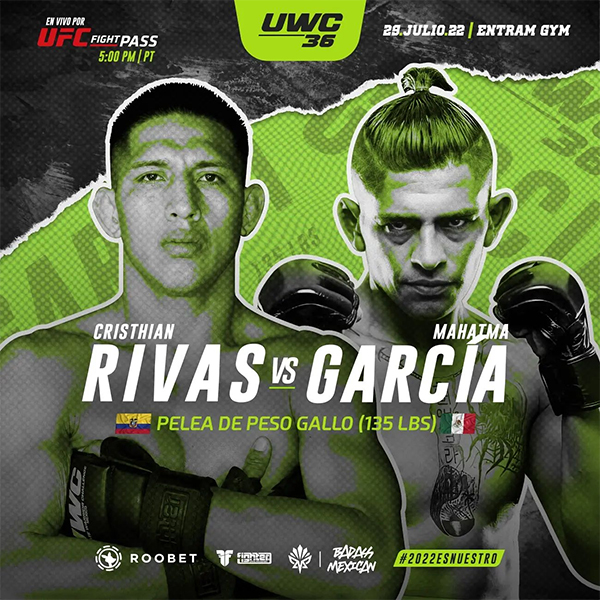 UWC 36: Rivas vs. Garcia is an upcoming mixed martial arts event scheduled for July 29, 2022 at the Entram Gym in Tijuana, Mexico.
Fight Card

Main Card (UFC Fight Pass)
Cristhian Rivas vs. Mahatma Garcia Avalos 135 lbs
Sóslenis Carvalho vs. Christian Cerda 125 lbs
Oscar Vazquez vs. Brandon Uruchurtu 125 lbs
Braian Gonzalez vs. Roberto Luna 135 lbs
Victor Kuiks vs. Luis Guzman 185 lbs
Bryan Martinez vs. Hugo Torres 125 lbs
Melany Gomez vs. Dayerlin Colmenares 115 lbs
Luis Elias vs. Derik Rodríguez 125 lbs
Background
Cristhian "Demoledor" Rivas enters as replacement for the UWC 36 event, next Friday, July 29, after Juan "Pegajoso" Díaz suffered a knee injury last week.

Rivas (7-1-1) will collide with Mahatma "Araña" García (10-8-1), from Tepic, Nayarit, and representative of the Spider Brothers MMA team, in a fight in the 135-pound division.

UFC fighters like Joselyne Edwards, Michael Morales and Brandon Moreno ,that all will fight on this weekends UFC 277 event, as well as Andres Luna who is fighting on Dana Whites Contender Series this week, have all previously been fighting for the Entram Gym UWC promotion.