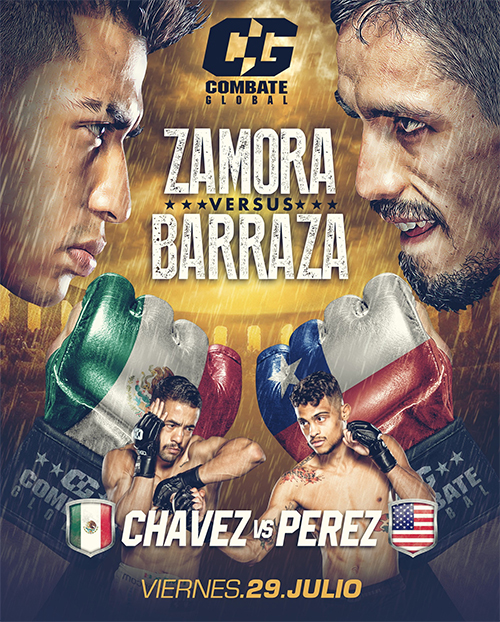 Combate Global 45: Chavez vs. Perez is an upcoming mixed martial arts event scheduled for July 29, 2022 at the Mediapro Studios in Miami, Florida, United States.
Fight Card

Main Card
Mexico Luis Chavez vs. Cuba Enzo Perez
Chile Cristian Barraza vs. Mexico Ismael Zamora
Spain Marcos Lloreda vs. United States Collin Lubberts
Preliminary Card
Mexico Ramon Vizcarra vs. Mexico Ulysses Molina
Ireland Dee Begley vs. United States Chantel Coates
Mexico Erik Mendez vs. Mexico Jair Lozano
Background
Mexico's Luis Fernandez Chavez (2-1) faces Cuban born Enzo Perez (2-1) in this week's CG 2022 July 29: Chavez vs Perez main event.

Also, top 135-pound prospect Ismael Zamora (3-1) will meet Cristian Barraza (8-5) in the co-main event.


Chavez vs Perez

Chavez returns to la jaula after quickly defeating submitting both Juan Ramirez and Richard Pabon by way of rear naked choke. The Mexican trains with the likes of world champion Brandon Moreno and Yair Rodriguez.

The athletic fighter counts on a great stand up but he has put an end on his opponents recently by making them tap. When he is not honing his skills in combat sports, Chavez is testing his athleticism with crossfit.

However, he will be tested by the Xtreme Couture fighter Perez who has a background in wrestling but comes it aggressive right after the bell. His last fight was against Tony Clanton who he finished at 3:46 in the first round by way of knockout.

Expect a hard-hitting fight from both of these men. Specifically, Perez is known for his aggression right from the start, but he is facing a more patient fighter in Chavez.

Perez should use his wrestling when the opportunity is available, but he needs to be cautious because when least expected Chavez could wrap up the fight with a submission.


Zamora and Barraza

Both men accepted this fight on days' notice as Zamora's original opponent couldn't compete due to Covid-19 protocols.

Barraza hasn't competed since last year when he came short in the semi-finals of Copa Combate 2021 losing to the winner Frans Mlambo. Most recently, he was working on his boxing with the Blackxicans in Mexico, but for this fight he was training at Barrio Franklin in his native country of Chile. He counts on a strong background in jiu jitsu but has evolved with his stand-up game.

Zamora has been on a rampage defeating Rick Zelada and George Garcia all in April of this year. Both fights ended quickly. His lonely loss was to Saul Tijerina by way of split decision. The youngster has shown he is a well-rounded fighter not staying shy to showcase his skills no matter where the fight goes.

Expect Barraza to exchange with Zamora, but if he doesn't feel that he is having the upper hand, he will be the first to go for the takedown. However, Barraza has the advantage with submissions, but Zamora has victories by way of ground and pound, arm bar and knockout.

All fighters hit the weight scale prior to Friday's fight card CG 2022 July 29, 2022 Chavez vs Perez.
Jul 28 - Updated fight card and poster
Jul 29 - Updated background