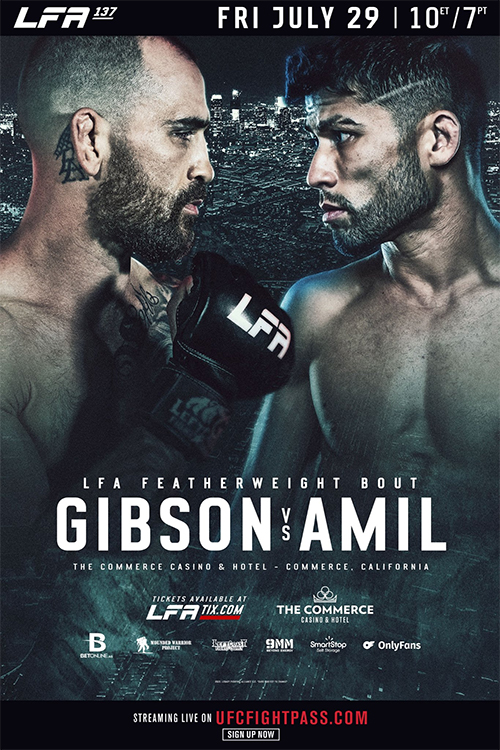 Legacy Fighting Alliance 137: Gibson vs. Amil is a mixed martial arts event promoted by Legacy Fighting Alliance and will take place on July 29, 2022 at the Commerce Casino in Commerce, California, United States.
Fight Card

Main Card (UFC Fight Pass)
Featherweight Chase Gibson vs. Hyder Amil
Bantamweight Ricardo Dias vs. John Sweeney
Lightweight Jean-Paul Lebosnoyani vs. Caleb Hall
Flyweight Cody Davis vs. Mark Climaco
Featherweight Leandro Gomes vs. Javier Garcia
Middleweight Billy Elekana vs. Daniel Compton
Women's Strawweight Pauline Macias vs. Amber Brown
Catchweight (160 lb) Jacob Rosales vs. Darren Smith Jr.
Preliminary Card
Flyweight Karlee Pangilinan vs. Mefi Monterroso
Women's Flyweight Dione Barbosa vs. Lisa Mauldin
Women's Strawweight Alandria Brown vs. Jasmine Pouncy
Welterweight Jeffrey Craig vs. Orlando Sanders
Featherweight Danny Silva vs. Elijah Leggett
Welterweight Emmanueli Adzoh vs. Tyson Miller
Background
The promotion will return to California at the end of July. The main event of LFA 137 will feature an explosive SoCal vs. NorCal rivalry between two of the top featherweight prospects in the sport. LFA 137 will be the thirteenth LFA event to take place in the Golden State.

LFA 137 takes place Friday, July 29th at The Commerce Casino & Hotel in Commerce, California, which is located in southeast Los Angeles County. The main event will feature a featherweight showdown between top prospects Chase "El Guero" Gibson and Hyder "The Hurricane" Amil.

"We are excited to bring the LFA back to my home state of California with a classic SoCal vs. NorCal rivalry," stated Soares. "Chase Gibson and Hyder Amil are two of the most exciting featherweight prospects in MMA and will give the state another chapter to its long sports rivalry. The Los Angeles Rams just won the Me die and the Golden State Warriors just won the NBA Finals, so the winner of this match will be the tie-breaker for state bragging rights in 2022. It will also have massive implications in our stacked featherweight division."

Gibson (11-5) is one of Los Angeles' most revered fighters and will enjoy the home crowd advantage in southern California. The proud Los Angeleno built his popularity on the strength of his no-nonsense approach to fighting. The 32-year-old CMMA product is a veteran of Dana White's Contender Series, but really came into his own since competing on the show in 2020. "El Guero" signed with the LFA after being on the wrong end of a controversial decision in front of the UFC boss and quickly made a statement just 59 days later. This happened when he became the first person to defeat TUF 27 alum Thai Clark. Gibson submitted Clark with a D'Arce Choke at LFA 94. He then returned in March to defeat former LFA title challenger Javier Garcia in the "Fight of the Night" and co-main event of LFA 127.

Amil (6-0) is a top undefeated prospect who represents the next generation of one of northern California's most respected fight teams, the legendary Skrap Pack. The Gilbert "El Niño" Melendez protégé known as "The Hurricane" has hit the LFA featherweight division just like his nickname implies after signing with the promotion in 2021. The 32-year-old San Francisco native possesses the same overwhelming fighting style that made his mentor famous. In his debut for the promotion at LFA 117, Amil swarmed Brazilian prospect and BJJ ace Robson Junior en route to a second round TKO victory. Then, like his next opponent Gibson, he doubled-down by winning a dog fight in his second appearance for the promotion. This came in April against LFA veteran Devante Sewell in the co-main event of LFA 129.