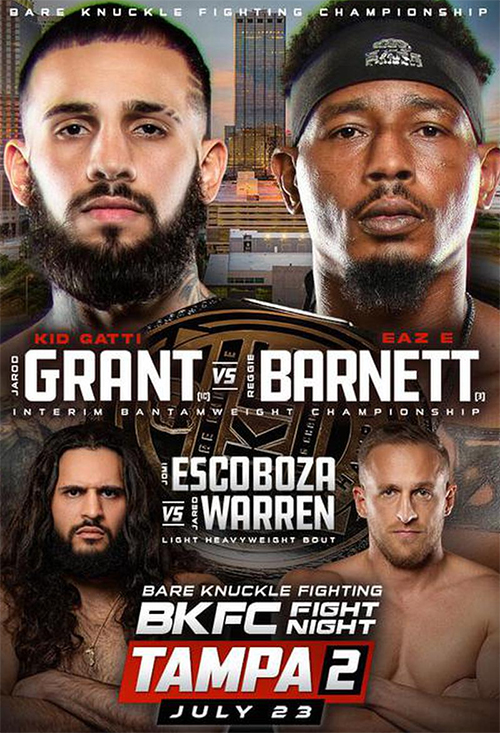 Bare Knuckle Fighting Championship Fight Night: Tampa 2 (also known as BKFC Fight Night 10: Grant vs. Barnett) will be a bare-knuckle fighting event to be held by Bare Knuckle Fighting Championship on July 23, 2022, at the Florida State Fairgrounds in Tampa, Florida, United States.
Fight Card

Main Card
Bantamweight 61 kg United States Jarod Grant (ic) vs. United States Reggie Barnett Jr
Interim Bantamweight Championship
Light Heavyweight 84 kg Dominican Republic John Michael Escoboza vs. United States Jared Warren
Light Heavyweight 84 kg United States David Mundell vs. United States David Simpson
Welterweight 75 kg United States Rynell Riley vs. United States Brynnen McIver
Heavyweight 120 kg United States Joshua Sanchez vs. United States Ryan Shough
Bantamweight 61 kg United States Rick Caruso vs. United States Ryan Reber
Featherweight 66 kg United States Stevo Morris vs. United States Glendel Futrell
Flyweight 57 kg Philippines Joshua Ridge vs. United States Justyn Martinez
Featherweight 66 kg United States Alex Tierney vs. United States Darrick Gates
Background
In the Main Event, Jarod "Kid Gatti" Grant defends his BKFC World Interim Bantamweight Championship for the first time against Reggie "Educated Hands" Barnett Jr. In March, Grant became the youngest champion in BKFC history at the tender age of 23. The fast-rising standout tries to improve to 6-0 with a fifth KO in the Squared Circle against his toughest challenge yet, the super technical Barnett Jr., who brings a hard-earned 6-2 record into battle, most recently going five rounds with Johnny Bedford in their bantamweight title bout in 2021.

Two of the best light-heavyweight fighters on the planet lock horns in the Co-Main Event, as John Michael Escoboza tries to climb to 8-0 at the expense of hard-hitting Jared Warren (3-2), the No. 5 BKFC light-heavyweight contender.

Speaking of world-class light-heavyweights, also in action is David "Redneck" Mundell, the No. 1-ranked BKFC light-heavyweight contender. He looks to improve to 5-1 against former amateur MMA champion David Simpson (1-1), who's riding high after his first KO in the Squared Circle in May.