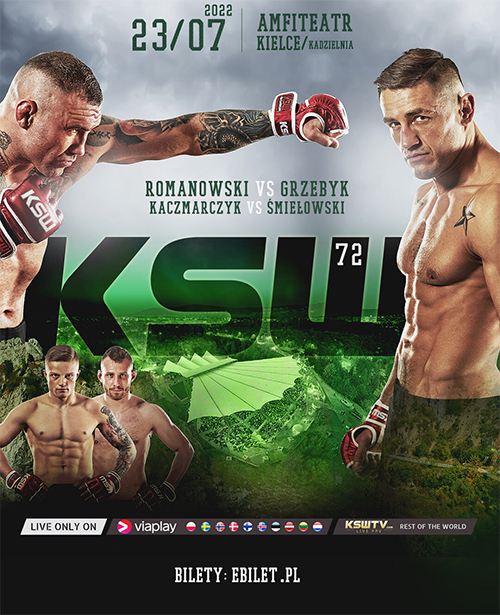 KSW 72: Romanowski vs. Grzebyk will be a mixed martial arts event held by Konfrontacja Sztuk Walki on July 23, 2022, at the Kadzielnia Amphitheater in Kielce, Poland.
Fight Card

Main Card
Welterweight 77 kg Poland Tomasz Romanowski vs. Poland Andrzej Grzebyk
Featherweight 66 kg Poland Patryk Kaczmarczyk vs. Poland Dawid Śmiełowski
Weltererweight 77 kg Netherlands Brian Hooi vs. Poland Michał Pietrzak
W.Flyweight 57 kg Croatia Sara Luzar Smajić vs. Poland Emilia Czerwińska
Welterweight 77 kg Norway Emil Weber Meek vs. Poland Kacper Koziorzębski
Light Heavyweight 93 kg France Oumar Sy vs. Latvia Hasan Mezhiev
Bantamweight 61 kg Portugal Gustavo Oliveira vs. Poland Patryk Surdyn
Lightweight 70 kg Luxembourg Yann Liasse vs. Poland Hubert Szymajda
Middleweight 85 kg Poland Robert Maciejowski vs. Poland Arkadiusz Kaszuba
Background
KSW 72 takes place this Saturday, July 23, from the unique setting of the Amfiteatr Kadzielnia in Kielce, Poland. The event will be live around the world on PPV and exclusively on Viaplay in Poland, Scandinavia, the Netherlands, & the Baltics.

Exciting all-Poland clashes take place in the main events as two of the nation's top welterweights Tomasz Romanowski (15-8) and Andrzej Grzebyk (18-5) battle it out in the headliner while two rising stars in Dawid Smielowski (9-0) and Patryk Kaczymarczyk (8-1) clash in the co-main event.

Elsewhere on the card, exciting veteran Emil Meek (9-6) makes his KSW debut against Kacper Koziorzebski (8-4), Sara Luzar-Smajic (4-1) faces Emilia Czerwinska (1-0), and two undefeated light heavyweights collide as Oumar Sy (6-0) takes on Hasan Mezhiev (12-0).