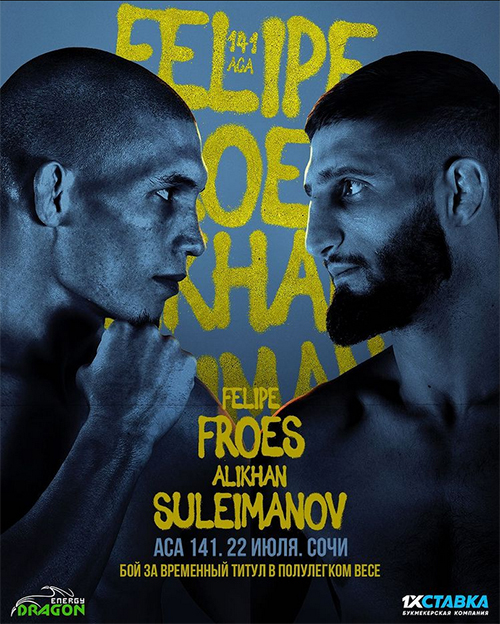 Absolute Championship Akhmat 141: Froes vs. Suleymanov will be a mixed martial arts event held by Absolute Championship Akhmat on July 22, 2022 at the Bolshoy Ice Dome in Sochi, Russia.
Fight Card

Main Card
Featherweight 66 kg Brazil Felipe Froes vs. Russia Alihan Suleymanov
Interim Featherweight Championship
Lightweight 70 kg Russia Rashid Magomedov vs. Russia Ali Bagov
Lightweight Grand Prix Quarter-finals
Light Heavyweight 93 kg Brazil Wagner Prado vs. Armenia Grigor Matevosyan
Featherweight 66 kg Brazil Elismar Lima vs. Russia Abdul-Rakhman Dudaev
Welterweight 77 kg Kyrgyzstan Altynbek Mamashov vs. Russia Andrei Koshkin
Preliminary Card
Middleweight 84 kg Russia Husein Kushagov vs. Russia Valery Myasnikov
Featherweight 66 kg Russia Islam Omarov vs. Brazil Marcos Rodrigues
Flyweight 57 kg Brazil Alexsandro Praia vs. Russia Yunus Evloev
Bantamweight 61 kg Russia Islam Meshev vs. Russia Mehdi Baydulaev
Heavyweight 120 kg Brazil Raphael Pessoa vs. Russia Adam Bogatyrev
Bantamweight 61 kg Brazil Cleverson Silva vs. Ukraine Pavel Vitruk
Bantamweight 61 kg Russia Albert Misikov vs. Russia Nashkho Galaev
Featherweight 66 kg Brazil Leonardo Limberger vs. Russia Davlatmand Chuponov
Background
Originally scedchuled for the main event, ASA featherweight champion Magomedrasul Khasbulaev was forced to withdraw from the fight with Alikhan Suleymanov due to an injury.

The league leadership decided to keep the ACA 141 main event and introduce an interim title. Khasbulaev is replaced by ex-champion Felipe Froes (22-5-1).

Felipe was supposed to fight against Islam Omarov on the same evening, so he is in great shape and ready for a new challenge.

The fight will take place on July 22 at ACA 141 in Sochi.