Site Admin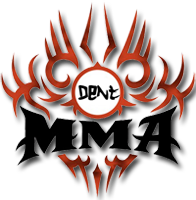 Joined: Tue Apr 07, 2009 12:53 pm
Posts: 11163
Location: In front of you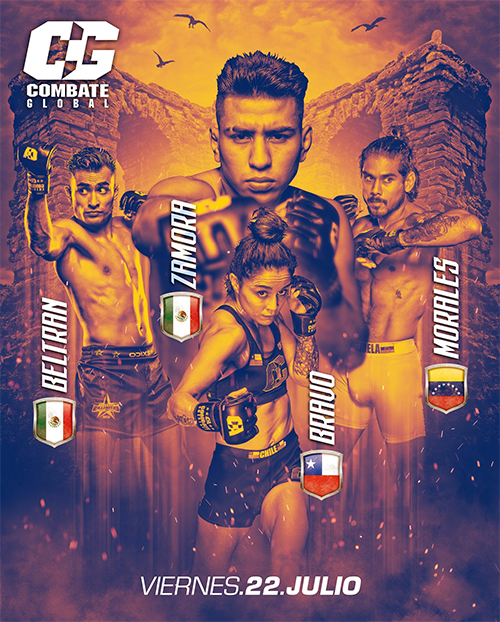 Combate Global 44: Zamora vs. Mascorro is an upcoming mixed martial arts event scheduled for July 22, 2022 at the Mediapro Studios in Miami, Florida, United States.
Fight Card

Main Card
Ismael Zamora vs. Carlos Mascorro 135 lbs
Katie Saull vs. Glora Bravo Barrios 105 lbs
Jose Mariscal vs. Jordan Beltran 155 lbs
Gabriel Morales vs. Alexander Sanchez 155 lbs
Preliminary Card
Erik Mendez vs. Abanoub Fares 135 lbs
Ramon Vizcarra vs. Ulysses Molina 135 lbs
Erick Montaño vs. Jimmy Sandlin 170 lbs
Marcos Lloreda vs. Collin Lubberts 170 lbs
Luis Fernando Chavez vs. Enzo Perez 135 lbs
Diana Sanchez vs. Maria Fernanda Larios Contreras 115 lbs
Martin Davila vs. Michael Reyes 125 lbs
Background
Combate Global today announced a five-fight Mixed Martial Arts (MMA) lineup for Friday, July 22, live on television in the U.S. on Univision (12 a.m. ET/PT) and TUDN (12 a.m. ET/9 p.m. PT) from Miami, Fla.

In the bantamweight (135 pounds) main event, 22-year-old wrecking machine Ismael "Kraken" Zamora (3-1) will face off with fellow Mexican upstart Carlos "La Anguila" Mascorro (4-3).

A member of the famed Bonebreakers team that is also home to reigning Combate Global World Bantamweight Champion David Martinez, Zamora of Mexico City is one of the sport's most highly regarded, pound-for-pound prospects who has earned all of his victories to date by way of (T)KO or submission.

Zamora will make his third appearance of 2022 in La Jaula, the Combate Global competition cage, following back-to-back victories that he produced just two weeks apart on April 8 and April 22, respectively.

Mascorro is a 26-year-old and another highly touted Mexican prospect fighting out of Chihuahua, Chih.

Mascorro is a seasoned striker who holds a brown belt in Karate, coming off a two-year hiatus from competition due to an injury.

A women's atomweight (105 pounds) co-main event will see 2021 "Heart of a Fighter" award winner, Gloria "Gloriosa" Bravo (6-5), collide with John Kavanagh protégé Katie "Queen of the North" Saull (4-5).

Bravo of Santiago, Chile is looking to notch her third consecutive win following back-to-back victories just two weeks apart last September 3 and September 17, when she scored a first round (4:36) submission (armbar) win over France's Jade Jorand and a unanimous decision over Mexico's Irlanda Galindo, respectively.

Fighting out of Dublin, Ireland, Saull, originally from Manitoba, Canada, is a member of Kavanagh's Straight Blast Gym (SBG) fight squad. She is gunning for her second straight victory following a first round (4:30) submission (armbar) of Tamika Jones on January 12.

In a featured featherweight (145 pounds) contest, Jordan "Bull" Beltran (12-8) of Colima, Col., Mexico will face off with Jose "Chepe" Mariscal (11-6) of Denver, Colo.

The preliminary bout card will be highlighted by the MMA debut of kickboxing star Damari Olivares (0-0) of Las Palmas, Gran Canaria, Spain. Olivares will battle Angel Blackwell (0-0) of Atlanta, Ga. in a strawweight (115 pounds) affair.

At lightweight (155 pounds), Alexander Sanchez (3-3) of San Luis Potosi, SLP., Mexico will meet Gabriel Morales (3-3) of Caracas, Venezuela via Miami.
July 21 - Updated fight card & background and added poster

_________________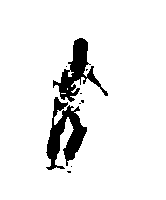 Real fast 1 gbit seedboxes - Professional support 24/7/365
Can off course be used on any tracker to gain ratio - Its pure freedom in a box!
Torrentflux or Dedicated Servers - 100% anonymous and encrypted - Welcome to try us out - 30 days money back garantuee!