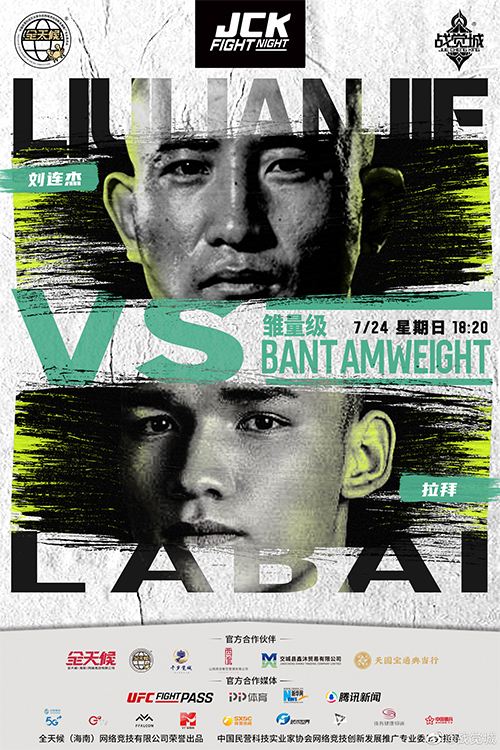 JCK MMA 2022 Week 12: Lianjie Liu vs. Bai La (also known as World War II) was an upcoming mixed martial arts event of the JCK 2022 Regular Season scheduled for July 24, 2022 at the JCK Arena in Haikou, Hainan, China.
Fight Card

Main Card (UFC Fight Pass)
Lianjie Liu vs. Bai La 135 lbs
Xi Tian vs. Zhaoxu Yang 155 lbs
Boqie Zheng vs. Tajialike Yeerbole 125 lbs
Yeeren Aibudubaheti vs. Haitao Ti 125 lbs
Bieerkeboli Maikeshi vs. Xia Liping 170 lbs
Wei Xie vs. Hengyuan Li 155 lbs
Pavel Antonovich vs. Kaha Jiayidaer 155 lbs
Apingshila vs. Yongqiang Liu 145 lbs
Qiuqiu Yu vs. Huanjun Gao 115 lbs
Background
Originally scheduled for July 16, 2022, the JCK Zhanjuecheng 2022 Season "World War II" event was originally postponed due to the requirements of the epidemic prevention and control policy.

The twelfth game of the JCK Zhanjuecheng 2022 season was eventually rescheduled for July 24.

The main event of the headline this time is a bantamweight duel, "Kung Fu little bald" Liu Lianjie against Rabai.

The co-main event is a lightweight match between Tian Xi and Yang Zhaoxu.

Other line-ups include: Zheng Boqie and Yerpol Tagarik, Yern Abdubaheti and Ti Haitao, Berkeboli Meikesh and Xia Liping, Li Hengyuan and Xie Wei, etc.

The Yu Qiuqiu VS Gao Huanjun fight will also be the start of the first Women's tournament.