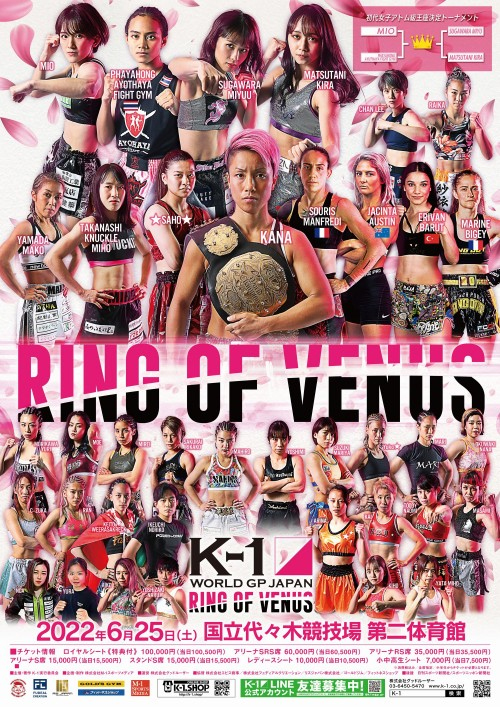 K-1: Ring of Venus will be a Women's kickboxing tournament and event held by K-1, which will be held on June 25, 2022, at the Yoyogi National Gymnasium in Tokyo, Japan.
Fight Card

Main Card
Flyweight 50 kg Japan Kana Morimoto (c) vs. France Souris Manfredi
K-1 Women's Flyweight championship
Atomweight 45 kg TBD vs. TBD
K-1 Atomweight Grand Prix Final
Catchweight 53 kg Japan SAHO vs. Australia Jacinta Austin
Minimumweight 48 kg Japan Miho Takanashi vs. Turkey Erivan Barut
Minimumweight 48 kg Japan Mako Yamada vs. France Marine Bigey
Flyweight 52 kg Japan Mahiro vs. Japan Yoshimi
Flyweight 52 kg Japan Rikako Sakurai vs. Japan Mariya Suzuki
Minimumweight 48 kg Japan Yuka vs. Japan Mirei
Minimumweight 48 kg Japan MOE vs. Japan MARI
Atomweight 45 kg Japan Yuri Morikawa vs. Japan Nana Okuwaki
Atomweight 45 kg Japan Miyuu Sugawara vs. Japan Kira Matsutani
K-1 Atomweight Grand Prix semifinals
Atomweight 45 kg Japan Mio Tsumura vs. Thailand Phayahong Ayothayafightgym
K-1 Atomweight Grand Prix semifinals
Atomweight 45 kg Japan Chan Lee vs. Japan Raika
K-1 Atomweight Grand Prix alternate bout
Flyweight 52 kg Japan Noriko Ikeuchi vs. Japan Arina
Minimumweight 48 kg Japan Keito Weerasakreck vs. Japan Kai
Minimumweight 48 kg Japan C-ZUKA vs. Japan Masami
Flyweight 52 kg Japan RAN vs. Japan Naomi Toody
Preliminary Card
Atomweight 45 kg Japan Kiho vs. Japan Miho Yata
Atomweight 45 kg Japan Aiko vs. Japan Naru Yoshizaki
Atomweight 45 kg Japan Noa vs. Japan Yura
Background
Multiple-time Shootboxing tournament winner Mio Tsumura is booked to face Phayahong Ayothayafightgym in the semifinals of the K-1 atomweight Grand Prix. The second atomweight bout pits the reigning Krush atomweight champion Miyuu Sugawara against Kira Matsutani.

Kana Morimoto, Mako Yamada and Miho Takanashi are scheduled to participate in a Japan versus the world matchups, where they will face international opponents.