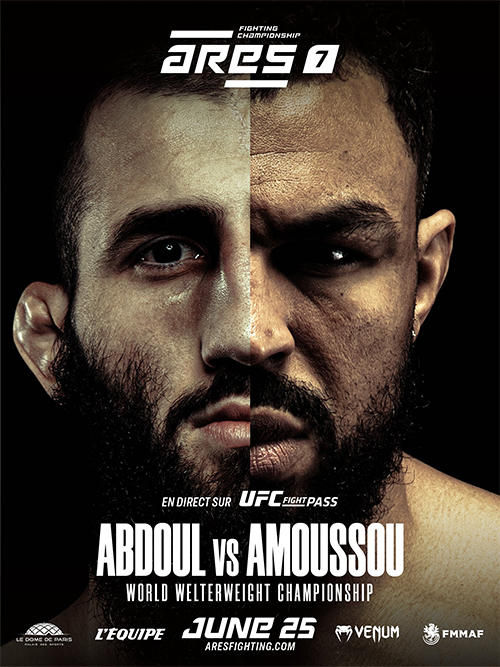 Ares FC 7: Abdoul vs. Amoussou is an upcoming mixed martial arts event scheduled for June 25, 2022 at Le Dôme de Paris - Palais des Sports in Paris, France.
Fight Card

Main Card (UFC Fight Pass)
Abdoul Abdouraguimov vs. Karl Amoussou 170 lbs
Welterweight Championship
Akhmed Salamov vs. Jose Galindo 185 lbs
Vacant Middleweight Championship
William Gomis vs. Renan Barão 145 lbs
Slim Trabelsi vs. Luis Henrique 265 lbs
Damien Lapilus vs. Amin Ayoub 155 lbs
Shamil Gaziev vs. Kirill Kornilov 265 lbs
Preliminary Card
Anastasia Feofanova vs. Ewelina Woźniak 115 lbs
Ibrahim Mané vs. Magomed Ayskhanov 170 lbs
Melissa Dixon vs. Rizlen Zouak 145 lbs
Anthony Salamone vs. Samir Kadi 185 lbs
Badr Medkouri vs. Alpha Cissokho 265 lbs
Background
At the dawn of the summer break, Ares Fighting Championship returns one last time before summer by offering you the biggest MMA event in the history of French MMA.

After the success of the sixth edition, marked by the French athletes' performances and the introduction of L'Equipe as the new national broadcast, Ares saved you the best for last by putting into play two championship titles on this eidtion.

On this occasion, the leading promotion of MMA in France gives you an appointment on Saturday, June 25 at The Dôme of Paris.

Expected by all, this edition promises to be explosive through a fight card that will offer you the best performances of these experienced athletes. In face the biggest French MMA names will compete on this Ares FC 7 card.

Some of you will particularly recognize Abdoul Abdouraguimov, Karl Amoussou, Damien Lapilus, Amin Ayoub, Kaynan Kruschesky, Rizlen Zouak or William Gomis.

Indeed, main event and co-main event fighters will compete for the Ares FC championship title in the welterweight and middleweight categories. The winners woll be rewarded with the Ares belt, among the most coveted in Europe.

The clash between Amoussou and Abdouraguimov represents the most expected fight in the history of the welterweight division in France between two athletes with immense ambitions.