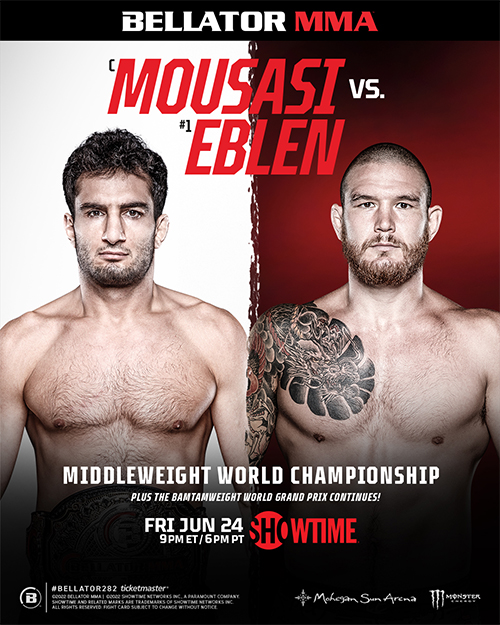 Bellator 282: Mousasi vs. Eblen is an upcoming mixed martial arts event produced by Bellator MMA that will take place on June 24, 2022 at Mohegan Sun Arena in Uncasville, Connecticut, United States.
Fight Card

Main Card (Showtime)
Middleweight Gegard Mousasi (c) vs. Johnny Eblen
Middleweight Championship
Bantamweight Leandro Higo vs. Danny Sabatello
WGP Quarter-Final
Bantamweight Magomed Magomedov vs. Enrique Barzola
WGP Quarter-Final
Welterweight Brennan Ward vs. Kassius Kayne
Preliminary Card (Youtube/Pluto TV)
Lightweight Brent Primus vs. Alexander Shabliy
Women's Featherweight Cat Zingano vs. Pam Sorenson
Middleweight Anatoly Tokov vs. Muhammad Abdullah
Welterweight Sabah Homasi vs. Maycon Mendonça
Women's Flyweight Alejandra Lara vs. Ilara Joanne
Featherweight Cody Law vs. James Gonzalez
Lightweight Dan Moret vs. Killys Mota
Featherweight Lucas Brennan vs. Johnny Soto
Middleweight Aaron Jeffery vs. Fabio Aguiar
Lightweight Bryce Logan vs. Mandel Nallo
Bantamweight Marcus Breno vs. Richard Palencia
Background
Gegard Mousasi is scheduled to defend his Middleweight title against Johnny Eblen for the event. The bout is expected to serve as the main event.

In addition to the middleweight main event, two quarterfinal bouts in the Bellator Bantamweight World Grand Prix will be featured at the event. The first bout will see #4 ranked Magomed Magomedov (18-2) facing the winner of the wild card fight between Josh Hill and Enrique Barzola. The second pits #6 ranked Leandro Higo (21-5) opposite the Jornel Lugo vs. Danny Sabatello winner.