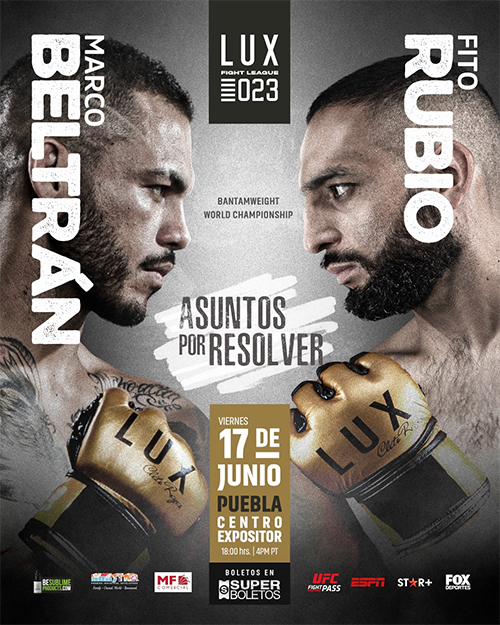 Lux Fight League 23: Beltran vs. Rubio is an upcoming mixed martial arts event scheduled for June 17, 2022 at the Centro Expositor in Puebla, Mexico.
Fight Card

Main Card (UFC Fight Pass)
Marco Beltran vs. Rodolfo Rubio Rubio Perez 135 lbs
Bantamweight Championship
Allan Zuñiga vs. Francesco Patron Manzo 145 lbs
Santiago Prieto vs. Jose Roura 135 lbs
Alma Cespedes vs. Elizabeth Rodriguez 125 lbs
Antonio Suarez vs. Carlos Arana 155 lbs
Linda Martell vs. Andrea Vazquez 125 lbs
Preliminary Card
Alejandro Guerrero vs. Mauricio Alfonso 135 lbs
Alexandro Bravo vs. Fernando Saavedra 125 lbs
Isaac Peña Samayoa vs. Carlos Ochoa 155 lbs
Marcelo perozo vs. Jonathan Esquivel 145 lbs
Itzel Padilla vs. Tania Tapia 105 lbs
Background
This coming Friday, June 17, the best Mixed Martial Arts league in Mexico and Latin America arrives for the first time in Puebla, Mexico, with a stellar fight for the LUX Fight League Bantamweight Title between the current champion, Marco 'Psycho' Beltrán, facing Rodolfo 'Fito' Rubio.

Both shared experiences a few years ago when they were part of the first season of TUF Latin America. Their paths parted and each accumulated valuable time fighting in the UFC octagon.

Once again the faces will be seen inside the most prestigious MMA cage in the entire region in a 5-round battle that promises a fight never seen before in Puebla.