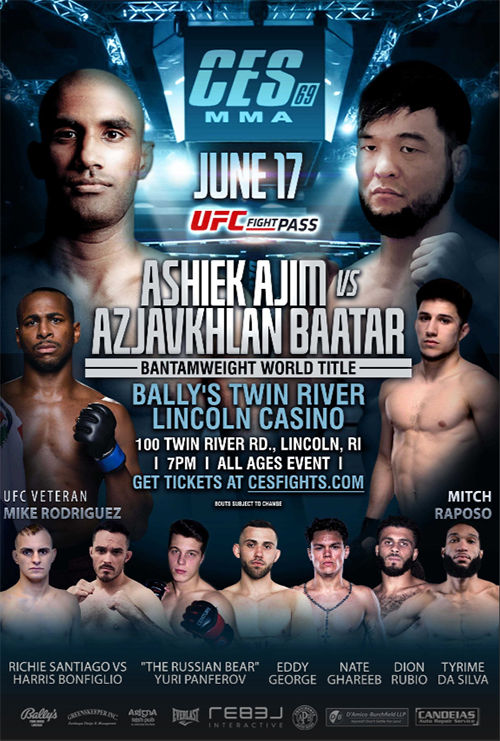 CES 69: Ajim vs. Baatar is an upcoming mixed martial arts event scheduled for June 17, 2022 at the Twin River Casino in Lincoln, Rhode Island, United States.
Fight Card

Main Card (UFC Fight Pass)
Ashiek Ajim vs. Azjavkhlan Baatar 135 lbs
Bantamweight Championship
Mike Rodriguez vs. Jeremy May 205 lbs
Richie Santiago vs. Harris Bonfiglio 135 lbs
Alex Cardenas vs. Tyrime Da Silva 145 lbs
Eddy George vs. Jacob Bohn 155 lbs
Dion Rubio vs. Sam Watford 155 lbs
Fran Collins vs. Deran Martinez 185 lbs
Nathan Ghareeb vs. Javon Wright 145 lbs
Chad Kelly vs. John Douma 135 lbs
Background
CES MMA returns to Ballys Twin River Lincoln Casino Resort on Friday, June 17 for CES 69 with Ashiek Ajim of New York battling Azjavkhlan Baatar of Japan for the vacant CES MMA World Bantamweight Championship.

Ajim makes his seventh appearance with the promotion and first since November in the five-round main event against Baatar for the promotion's world bantamweight title, which is once again up for grabs due to a breach of contract by former title-holder Diego Silva.

CES 69 also features a light heavyweight showdown between Mike Rodriguez of Boston, who is making his long-awaited homecoming following a five-year stint with the UFC, and Brazilian Marcus Vinicius; plus an all-New England bantamweight showdown between Richie Santiago of Milford, MA, and Harris Bonfiglio of Gilford, CT.