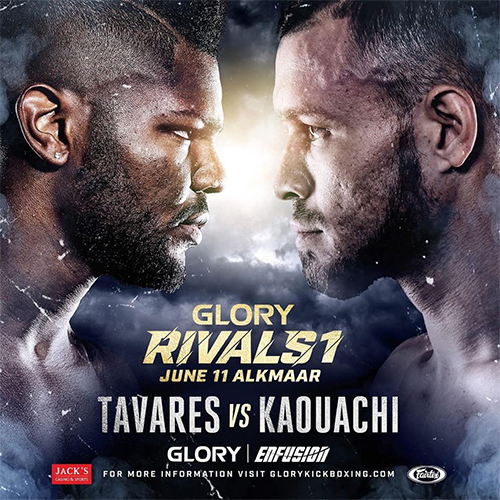 Glory Rivals 1: Tavares vs. Kaouachi will be a kickboxing event held by Glory in partnership with Enfusion on June 11, 2022 at the Zwembad Hoornse Vaart in Alkmaar, Netherlands.
Fight Card

Main card
Light Heavyweight 95 kg France Florent Kaouachi vs. Netherlands Luis Tavares
Welterweight 77 kg Brazil Rodrigo Mineiro vs. Netherlands Jay Overmeer
Light Heavyweight 95 kg Morocco Ibrahim El Bouni vs. Suriname Clyde Brunswijk
Heavyweight 95+ kg Morocco Nidal Bchiri vs. Turkey Muhammed Balli
Welterweight 77 kg England Joe Johnson vs. Netherlands Regilio van den Ent
Enfusion 108
Lightweight 70 kg Morocco Younes Smaili vs. Belgium Conan Saelens
Light Heavyweight 95 kg Netherlands Raymon Bonte vs. Netherlands Steven van den Broek
Welterweight 77 kg Morocco Ismael Ouzgni vs. Netherlands Jimmy van Kuijeren
Welterweight 77 kg Somalia Mahamed Achmed vs. Netherlands Yannick van Vliet
Bantamweight 61 kg Morocco Youssef Madi vs. Morocco Adil Bougzir
Enfusion Talents 91
Bantamweight 61 kg Brazil Diego Barbosa vs. Netherlands Robin GilleBaard
Bantamweight 61 kg Morocco Marouane Elkass vs. Netherlands Bas Willemse
Bantamweight 61 kg Hungary Renato Goman vs. Netherlands Bilal el Alaoui
Featherweight 65 kg Morocco Mohammed El Oualkadi vs. Germany Rastiano Petronia
Featherweight 65 kg Brazil Gilvan Gomez vs. England Levi Thompson
Background
GLORY, the world's premier kickboxing organization, announced today the launch of GLORY Rivals, a new series of events launching in 2022. GLORY Rivals is a global initiative to showcase the world's best kickboxers and strikers in partnership with other leading fighting organizations.

"It's time for the best fighters in the world to fight, regardless of organization," says GLORY Executive Vice-Chairman Scott Rudmann. "At GLORY, we're confident we have the best talent and we're willing to prove it. We welcome the challenge of any MMA, boxing, or kickboxing organization that believes their fighters can compete against ours. It's time for a change in the combat landscape and we're excited to lead the way."

GLORY Rivals allows the world's top fight organizations to showcase their best fighters in new markets and create matchups that fans have been calling for. The Series will kick off with Enfusion in Europe and RISE in Japan.

"We're excited to partner with both organizations and create new events together," added Rudmann. "Many of GLORY's top fighters debuted with Enfusion, including Middleweight Champion Donovan Wisse and top contenders Levi Rigters, Mohammed Jaraya, and Luis Tavares. RISE is the leading kickboxing organization in Japan and features some of the best pound-for-pound fighters in the world, including Tenshin."

In addition to the Enfusion and RISE partnerships, GLORY is exploring additional global challengers, including organizations in the United States and Brazil.

This has the potential to become something really awesome!