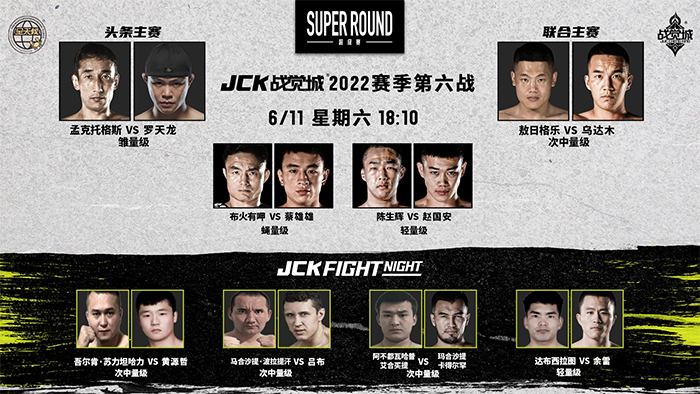 JCK Fight Night 2022: First Round 6 (also known as Juecheng Night Divisional Game 6 and JCK MMA 2022 Week 6) is an upcoming mixed martial arts event scheduled for June 11, 2022 at unknown venue in Haikou, Hainan, China.
Fight Card

Main Card (UFC Fight Pass)
Tianlong Luo vs. Ketuogesi Meng 134 lbs
Aorigele vs. Damu Wu 170 lbs
Buhuoyouga vs. Xiongxiong Cai 126 lbs
Shenghui Chen vs. Guoan Zhao 154 lbs
Preliminary Card
Wuerken Sulitanhali vs. Yuanze Huang 170 lbs
Kadeerhan Maheshati vs. Abuduwahapu Aihemaiti 170 lbs
Xilatu Dabu vs. Lei Yu 154 lbs
Background
2022 Season JCK Fight Night Section Competition 5th Event.

JCK (Jue Cheng King) is China's "Ambitious Super" MMA Promotion.

Similar to the PFL, JCK operates in an annual, seasonal format that culminates in a finale and massive payouts to the winners. However, unlike the PFL, JCK uses more of a standard tournament format, with some additional complications. Five tournaments across the weight classes from flyweight to welterweight progress from the months of May to January, with events every Saturday.

The tournaments begin with an immense field- 32 fighters per weight class. Last year, the field included longtime Chinese MMA veterans as well as fighters making their pro debuts. The veterans often cut down their competition, but there were also surprising discoveries as well, such as the heavy-handed welterweight Aorigele (4-0), who blasted his way to the finals. The winner of each tournament receives one million RMB and shortcuts to the top in future JCK seasons.

However, there are some twists to the standard tournament format. As mentioned previously, former winners and successful veterans of JCK get a shortened route to the finals. These elite competitors take part in the "JCK Super Round". In Super Round events, six fighters in each weight class draw names to determine the matchups. Each fighter competes in three fights within that pool of six, and the six fighters are ranked by the promotion based on their performances. The bottom two fighters face elimination.

JCK's format develops MMA in China at a rapid pace, gathering hundreds of the country's athletes and giving them up to five fights in a year. Heavy investment in the promotion allows for the weekly events, which are broadcast for free with A-level production values.