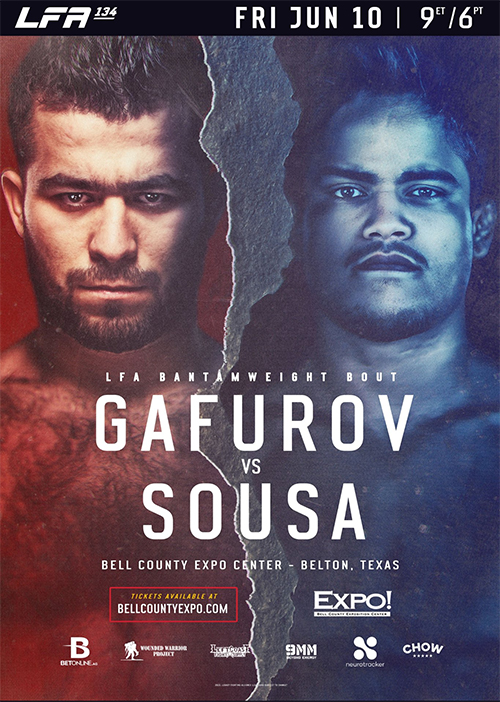 Legacy Fighting Alliance 133: Stack vs. Delano is an upcoming mixed martial arts event scheduled for June 10, 2022 at the Bell County Expo Center in Belton, Texas, United States.
Fight Card

Main Card (UFC Fight Pass)
Bantamweight Muin Gafurov vs. Herbeth Sousa
Featherweight Milko Tucto vs. Olivier Murad
Flyweight Kevin Fernandez vs. Jordan Harris
Light Heavyweight Joel Guzman vs. Tanner Marlow
Heavyweight Jakori Savage vs. Taylor Escamilla
Flyweight Alden Coria vs. Joseph Camacho
Middleweight Shane Sobnosky vs. Jared McLoughlin
Preliminary Card
Bantamweight Cody Rondeau vs. Mateo Gonzalez
Featherweight Edgardo Guzman vs. Mark Lorello
Featherweight Enrique Owens vs. Gunner Coronado
Middleweight Zumarr Archer vs. Tanner Arnold
Welterweight Harrison Layne vs. BJ Miller
Bantamweight Ian Engbrock vs. Steven Lontine
Amateur Card
Welterweight Kieran Carthan vs. Jordan Bradley
Featherweight Marquise Davis vs. Terrell Nixon
Lightweight Omar Alramahi vs. Dawson Moore
Welterweight Josh Zarazua vs. Jody Oliver
Background
LFA 134 will feature a bantamweight showdown at the top of the card when the promotion returns to the state of its inception. This will be the fifth LFA event to take place in the Centroplex of Texas. It will also be the twenty-second time that the LFA has visited "The Lone Star State".

Gafurov (17-4) comes to the LFA as a national hero in his home country of Tajikistan due to being one of its most decorated combat sports athletes. Tajikistan is a mountainous country located in Central Asia that loves combat sports. In fact, the country made gushtigiri its national sport, which is a form of traditional wrestling. Naturally, Gafurov gave up a promising soccer career after realizing he was even more gifted as a fighter. The 26-year old's résumé includes two Combat Sambo World Championships, a FILA World Grappling Title, six bouts for Asia's leading MMA promotion ONE, and an eight-and-a-half-year professional MMA career that has seen him compete in 11 countries. The last country he competed in happened to be his United States debut on Dana White's Contender Series this past September. After coming up on the wrong end of a controversial Split Decision, "Tajik" will now become the first Tajik to fight for the LFA.

Sousa (15-1) will be making his LFA debut after gaining notoriety in another country with a deep appreciation for combat sports. In fact, he hails from Brazil's capital city of Brasília and holds the rank of black belt in BJJ, which is his country's most famous martial art. Beyond coming from a country filled with passionate fight fans, Sousa also shares other similarities with his Asian opponent. After winning various grappling matches in his country, the UNICEUB CUP (University Center of Brasília), and a regional title for Future FC, Sousa finally got the chance to make his international debut. That chance came in the form of a title fight in the United States, where he challenged the CFFC bantamweight champion Alexander Keshtov. Sousa dominated the undefeated Russian champion to earn a Unanimous Decision victory, but since he missed weight the day before, he was not eligible to take home the title. "Índio" will now use that experience at LFA 134.