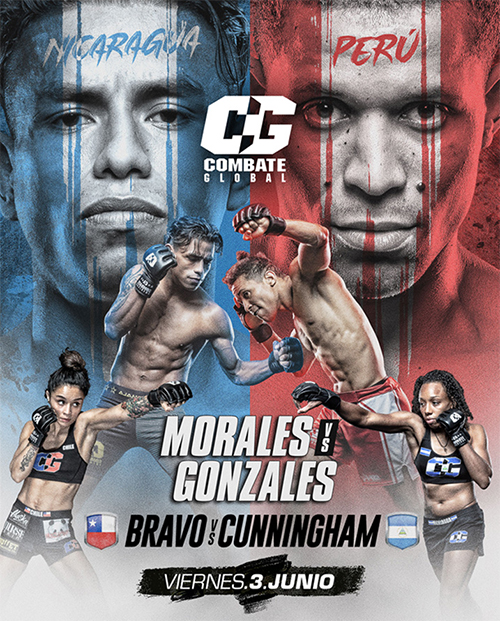 Combate Global 39: Moralez vs. Gonzales is an upcoming mixed martial arts event scheduled for June 3, 2022 at the Cisneros Studios in Miami, Florida, United States.
Fight Card

Main Card
Featherweight Leonardo Morales (Nicaragua) Vs. Marlon Gonzales (Peru)
Women's Atomweight Bout Gloria Bravo (Chile) Vs. Yajaira "la Pantera Negra" Cunningham (USA)
Featherweight Ramon Vizcarra (Mexico) vs. David Zelner (USA)
Preliminary Card
Featherweight Moses Diaz (USA) vs. Carlos Cordoba (Costa Rica)
Lightweight Chris Alvidrez (USA) vs. Jose Matuz (Mexico)
Bantamweight Gabriel Mazzetti (USA) vs. David Macias Ruiz (Mexico)
Background
Nicaragua's Leonardo "Chimmy" Morales (10-6) is eager for his first win inside la jaula but a familiar face in Peru's Marlon Gonzalez (15-5-2) stand in his way as both men will be in the main event of CG2022 June 3: Morales vs Gonzalez.

Also, another Nicaraguan Yajaira Cunningham (4-3) returns to action after defeating Kayla Hracho against the Chile's Gloria Bravo (6-5), while Florida's David Zelner makes his debut for Combate Global against Mexico's Ramon Vizcarra (3-3).


Morales vs Gonzalez

Morales has had a rough start in la jaula having lost to Jose Estrada in July and John Sweeney in October both by way of decision. It's a friendly reminder, never to leave the fight to the judges. The Nicaraguan trains at the Xtreme Kombat Academy in the Central American country and also at the Ultimate Kombat Academy in Arizona.

The former The Ultimate Fighter contestant has a background in Taekowndo and boxing, but has evolved his ground game throughout his career.

Meanwhile, his Peru's Marlon Gonzalez returns to action making his fourth appearance inside la jaula. The last time he stepped inside la jaula was in December 2019 when he lost by decision to Horacio Gonzalez. He is 1-2 in Combate Global.

Expect both men to exchange punches and kicks as both Morales has a background in kickboxing, while Morales has a black belt in Taekwondo and started training boxing very early in his combat sports experience.

It is a perfect test for Morales and a shot to remind Gonzalez why is a staple in Peru MMA.


Cunningham vs Bravo

In April, Cunningham took a fight on weeks notice against Kala Hracho routing her by split decision. She looked crisp with her boxing and footwork was on point. Credit goes to her training, She used to train at MMA Masters, but she now has created her own camp training with different individuals, which allow her to expose any deficiencies. This will be the fifth fight for her in Combate Global.

On the opposite side, Bravo is riding on a two-fight win streak defeating Jade Jorand by arm bar and Irlanda Galindo back in September by way of unanimous decision.

She currently changed camps and find herself training at Barrio Franklin, which she credit for adjusting her skills both on the feet and on the ground.

Expect this co-main event to be a full-blown strike fest, but Bravo could potentially challenge Cunningham to a fight on the ground. Cunningham has good take down defense that could benefit her and remain the fight on the feet.


Zelner vs Vizcarra

Zelner is a jiu jitsu extraordinaire defeating both of his opponents in his professional career by way of rear naked choke. Zelner trains with the Fusion X Cel Performance Center, where mma veterans Philip Rowe, Mike Davis and Mike Perry train. His last two fights took place in July and November of 2021.

However, Vizcarra has a strong background in jiu jitsu as well sporting a purple belt in jiu jitsu and is currently working on getting his black belt. This will be his third appearance for him inside la jaula. Vizcarra counts with two guillotine choke victories.

Both these men are well versed in jiu jitsu which should be an exciting fight with transitions on the floor. This fight might conclude on the floor with one person being submitted.
Jun 3 - Updated fight card & background