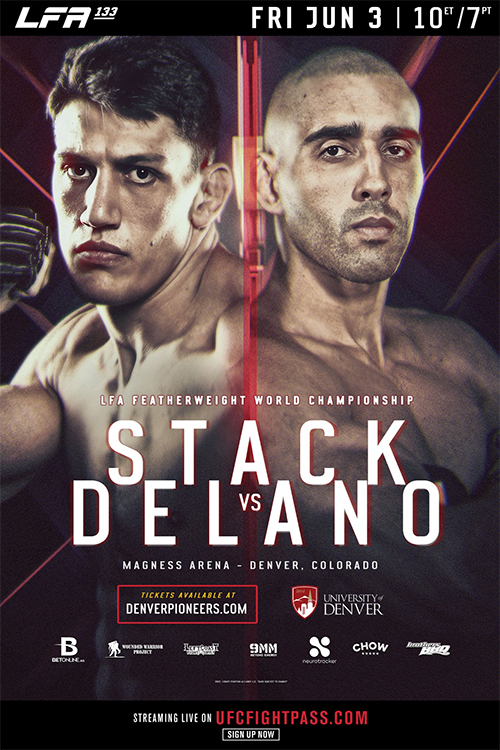 Legacy Fighting Alliance 133: Stack vs. Delano is an upcoming mixed martial arts event scheduled for June 3, 2022 at the Magness Arena in Denver, Colorado, United States.
Fight Card

Main Card (UFC Fight Pass)
Featherweight Michael Stack vs. José Delano
Vacant Featherweight Championship
Welterweight Haris Talundžić vs. Bahatebole Batebolati
Flyweight Josiah Reyes vs. Bayanduuren Gantumur
Welterweight Benjamin Bennett vs. Trey Waters
Heavyweight Ben Tynan vs. Trevor Wallace
Welterweight Ryan Charlebois vs. Jeremiah Curtright
Preliminary Card
Lightweight Jacobi Jones vs. Riley Wiseman
Women's Strawweight Jasmine Montoya vs. Taisha Gandy
Flyweight Miguel Perez vs. Mike Mazariego
Flyweight Llorrvic Acevedo vs. Aasin Liberato
Catchweight (130 lbs) Luis Gurule vs. Anthony Valenzuela
Flyweight Frankie Sanchez vs. Joe Stafford
Featherweight Jota Ninomiya vs. Ricky Field
Amateur Card
Lightweight David Evenson vs. Jeremiah Humphrey
Middleweight Iaian McGhee vs. Cody Jerabek
Background
LFA 133 will feature a featherweight world title fight when the promotion heads to the "Mile High City" of Denver. The winner will become the sixth 145-pound champion in LFA history. This will be the ninth LFA event to take place in the state of Colorado. RFA hosted eight events in the "Centennial State" before the merger of RFA and Legacy FC that created LFA.

Stack (7-1) is a man that signed with the LFA shortly after his 25th birthday. The 27-year-old Colorado native has since spent the past two and a half years honing his skills inside the LFA Octagon. In that time, Stack has stayed busy compiling four wins with his lone setback coming against Kai Kamaka III in a fight that earned them a nominee for the LFA Fans' Choice Awards: Fight of the Year in 2020. The Colorado State University graduate had an even more impressive year in 2021, picking up a pair of wins against Tongan prospect Jordan Mapa and BJJ black belt Jackson Filho that earned him a nominee for the LFA Fans' Choice Awards: Male Fighter of the Year in 2021. The Trials MMA product started 2022 with a win over Caio Gregório and now looks to follow in the footsteps of his teammate Justin Gonzales, who won the LFA featherweight title in 2020. Stack will have his chance to keep the belt in the state at LFA 133.

Delano (10-2) is a man looking to finish a job he started in March. The Brazilian was busy training for his LFA debut at LFA 126, where he was set to face top undefeated prospect Gabriel Braga to kick off the main card. However, when Rafael Barbosa withdrew from the title fight during Fight Week, Delano jumped at the opportunity to fight for the LFA featherweight title in the main event. Unfortunately, Delano missed the mark at the weigh-in by two pounds and was not eligible to win the title against Jonas Bilharinho the next night. The 25-year-old did not let that distract him from the task at hand and went on to defeat the highly-touted Bilharinho via Unanimous Decision. Now the talented Brazilian Top Team (BTT) product, who is a protégé of former UFC champion and MMA legend Murilo Bustamante, looks to finish the task by bringing home the LFA featherweight title in his international debut when he faces Stack at LFA 133.
Jun 3 - Updated fight card