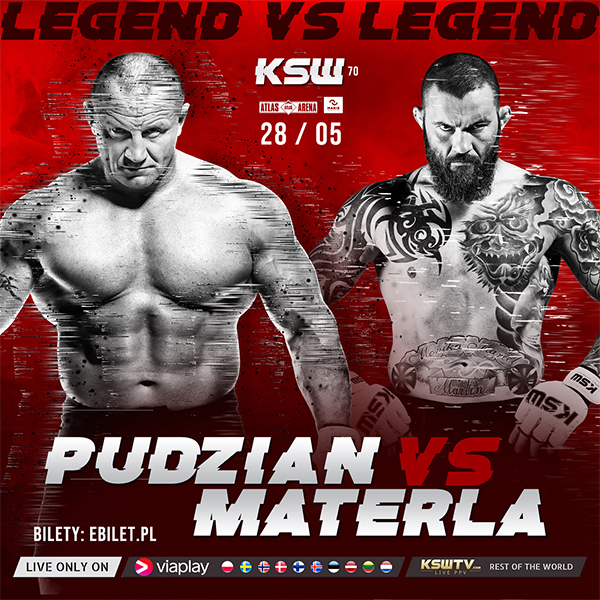 KSW 70: Pudzianowski vs. Materla will be a mixed martial arts event held by Konfrontacja Sztuk Walki on May 28, 2022, at the Atlas Arena in Łódź, Poland.
Fight Card

Main Card
Heavyweight 120 kg Poland Mariusz Pudzianowski vs. Poland Michał Materla
Heavyweight 120 kg Poland Daniel Omielańczuk vs. Brazil Ricardo Prasel
Light Heavyweight 93 kg Poland Rafał Kijańczuk vs. Croatia Ivan Erslan
Middleweight 84 kg Poland Radosław Paczuski vs. Netherlands Jason Wilnis
Heavyweight 120 kg Poland Marek Samociuk vs. Poland Izu Ugonoh
Light Heavyweight 93 kg Poland Damian Piwowarczyk vs. Poland Bartosz Leśko
Preliminary Card
Middleweight 84 kg Poland Albert Odzimkowski vs. Republic of Ireland Tommy Quinn
Women's Strawweight 52 kg Poland Anita Bekus vs. Italy Roberta Zocco
Lightweight 70 kg Poland Łukasz Rajewski vs. Argentina Francisco Albano Barrio
Background
The main event will feature a heavyweight superfight between the former World's Strongest Man Mariusz Pudzianowski and the former KSW Middleweight Champion Michał Materla.

Two KSW legends go head to head in a crazy KSW 70 main event this Saturday at the Atlas Arena in Lodz, Poland, as five time world's strongest man Mariusz Pudzianowski (16-7) clashes with former KSW middleweight champion Michal Materla (31-8).

The co-main event sees a potential number one contender fight between ex-Chelsea F.C. goalkeeper Ricardo Prasel (12-3) and Polish fan-favourite Daniel Omelianczuk (25-12-1), who enjoyed a nine-fight run in the UFC between 2013 & 2017.

Elsewhere on the card, former international WBO, WBA, & IBF boxing champion Izu Ugonoh (1-1) is aiming to get his MMA career back on track and get retribution in a rematch with Polish slugger Marek Samociuk (3-2) and former Glory middleweight champion Jason Wilnis (2-0), who holds a win over current UFC champ Israel Adesanya, makes his KSW debut against fellow kickboxer-turned MMA fighter Radosław Paczuski (3-0).

The undefeated prospect Radoslaw Paczuski will welcome the former Glory Middleweight Champion Jason Wilnis to the KSW middleweight division.