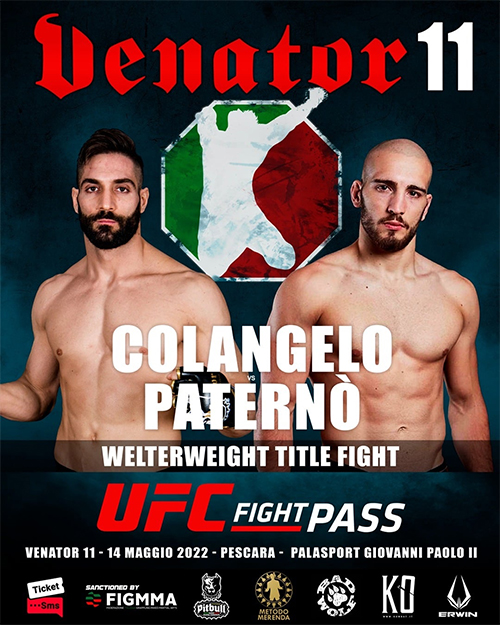 Venator FC 11: Colangelo vs. Paternò is an upcoming mixed martial arts event scheduled for May 14, 2022 at Palasport Giovanni Paolo II in Pescara, Italy.
Fight Card

Main Card (UFC Fight Pass)
Michelangelo Colangelo vs. Stefano Paternò 170 lbs
Vacant Welterweight Championship
Michael Pagani vs. Joshua Onwordi 155 lbs
Manolo Zecchini vs. Souk Khampasath 145 lbs
Serghei Popa vs. Andrea Myrto 170 lbs
Alessio Ibba vs. Aaron Robinson 135 lbs
Gianni Massafra vs. Gabriel Cronemberger 185 lbs
Preliminary Card
Ilaria Pizzuti vs. Alice Pisciotta 126 lbs
Pasquale Dromì vs. Michele Verini 135 lbs
Diego Pallavicini vs. David Lopez 170 lbs
Andrei Oniscenco vs. Francesco Maione 145 lbs
Background
On Saturday 14 May 2022, at the Palasport Giovanni Paolo II in Pescara, you will be able to enjoy live this Main Event and all the other matches on the Venator FC 11 card. The Venator Fighting Championship welterweight belt is about to be awarded ...

The two strongest welterweights in Italy will face off in a battle that promises to be full of twists and turns and which will thrill all Venator FC 11 spectators.


Michelangelo "The Farmer" Colangelo

This young and talented athlete is looking forward to entering the Venator octagon to get the belt he has been aiming for for years.

"The Farmer", who was born and raised in sports at the Wolf Temple gym in Altamura, has perfected his fighting technique in the last year thanks to his English experience at the "Manchester Top Team" gym - where he trains regularly.

If he wins, he will reach his tenth career success and his fifth consecutive victory among professionals.


Stefano Paternò

After coming close to winning Venator's welterweight belt in October 2017, Stefano Paternò is determined to get his hands on this title.

Over the past 5 years, this fighter's career has been on the rise. In fact, Stefano made his debut and fought in the most important MMA promotions in Europe.

He remains famous for his victory in the English promotion Cage Warriors, thanks to which he won the welterweight title.