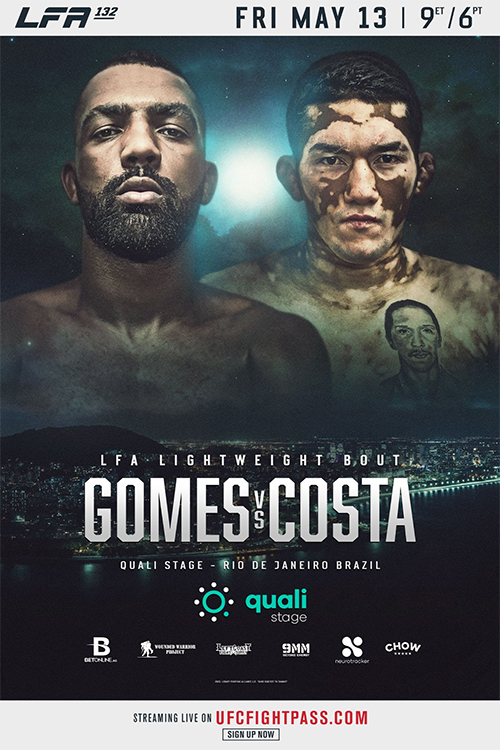 Legacy Fighting Alliance 132: Gomes vs. Costa is an upcoming mixed martial arts event scheduled for May 13, 2022 at the Quali Stage in Rio de Janeiro, Brazil.
Fight Card

Main Card (UFC Fight Pass)
Italo Gomes vs. Melquizael Costa 155 lbs
Luan Luiz Lacerda vs. Marciley Alves 135 lbs
Gabriel Silva vs. Rono Junior 145 lbs
Leo Leite vs. Claiton Trassante 205 lbs
Yasmin Castanho vs. Bruna Brasil 115 lbs
Edna Oliveira vs. Gabriella Hermógenes 125 lbs
José Henrique vs. Pedro Oliveira 185 lbs
Preliminary Card
Lincon Santos vs. Rodrigo Roldan 125 lbs
Gabriel Souza Galindo vs. Lucas Sousa 155 lbs
Hyago Silva vs. Richard Jacobi 265 lbs
Jefferson Nascimento vs. Uyran Carlos 170 lbs
João Moraes vs. Lucas Martins 155 lbs
Background
LAS VEGAS, Nevada — LFA CEO Ed Soares announced an update today for the promotion's return to Brazil. LFA 132 on Friday, May 13th will be topped with a new lightweight showdown after the original headliner Rodrigo "The Dynamis" Lídio withdrew from the bout. This will be the fourth LFA event to take place in Rio de Janeiro, Brazil after the promotion's international expansion took place last summer.

Gomes (10-2) is an exciting 25-year-old prospect from the coastal Brazilian municipality of Macaé. The city is generally considered to be the center of the offshore petroleum industry in Brazil and it is often referred to as "Cidade do Petróleo" ("City of Petroleum"). Similarly, Gomes has emerged as the latest top resource in his country's legendary MMA scene. Gomes is a BJJ black belt and member of the Tata Fight Team in Rio de Janeiro, which is where he moved to train once turning pro shortly after his 20th birthday. Now the Tatá Duarte protégé will look to join his teammate and UFC star André "Sergipano" Muniz on the world stage with a marquee win in the main event of LFA 132.

Costa (17-4) is one of the more intriguing prospects to come out of Brazil in recent years and he was eager to step up into the main event slot of LFA 132, when Lídio withdrew. The man known as "Melk" hails from the municipality of Bauru, which is located in the midwestern region of the state of São Paulo. The 25-year-old began his career 8 years ago and has compiled 17 career wins, but it is his recent work that has seen the Paulista take his career to the next level. Costa has gone 5-0 over the past 3 years, which includes winning his international debut just 5 weeks ago in Mexico. That win earned the Brazilian a regional title and a spot in the main event of LFA 132.