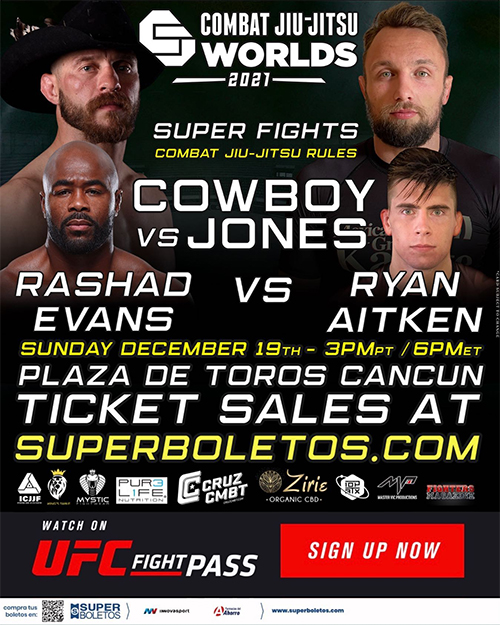 Combat Jiu-Jitsu Worlds 2021: Cerrone vs. Jones (also known as The Featherweights) is an upcoming grappling event scheduled for December 18, 2021 at Plaza de toros in Cancun, Mexico.
Fight Card

Super Fights
@cowboycerrone vs. @craigjonesbjj
@sugarashadevans vs. @ryanaitken10p
Tournament Bracket
@elias_anderson
@keithkrikorian
@beneddy10p
@diegolopesmma
@jholy90
@crissunshinemma
@acunamatatamma
@davidweintraubmma
@dillondboym
@duck_jitsu
@bjjkim
@wackerswizardry
@supercougarzackbjj
@tycenlynn
Background
The biggest night in CJJ History. The Combat Jiu-Jitsu Debut of @cowboycerrone facing off against @craigjonesbjj and UFC Hall of Famer @sugarashadevans against CJJ World Champion @ryanaitken10p in the Combat Jiu-Jitsu Main Event Super Fights.