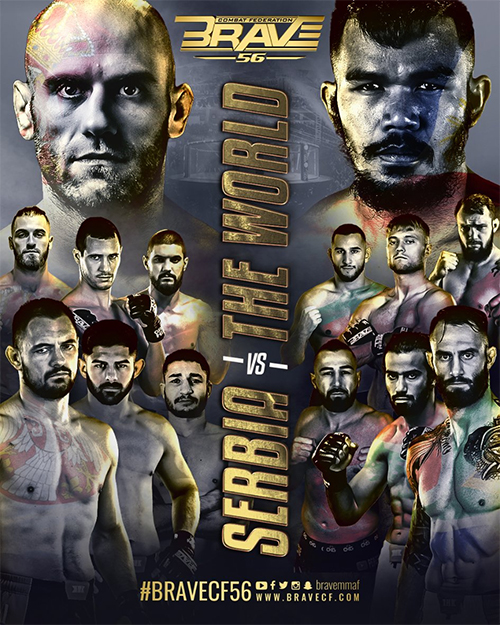 BRAVE CF 56: Dy vs. Maksimovic is an upcoming mixed martial arts event scheduled for December 18, 2021 in Belgrade, Serbia.
Fight Card

Main Card
Lightweight 70 kg Philippines Rolando Dy vs. Serbia Slobodan Maksimović
Middleweight 84 kg Russia Mikhail Allakhverdian vs. Serbia Miro Jurković
Super Lightweight 75 kg Lebanon Ahmed Labban vs. Serbia Nemanja Kovac
Bantamweight 61 kg Latvia Matiss Zaharovs vs. Serbia Borislav Nikolić
Light Heavyweight 93 kg Croatia Zvonimir Kralj vs. Slovenia Jakob Nedoh
Super Welterweight 79.5 kg Poland Tomek Łangowski vs. Serbia Jovan Marjanovic
Featherweight 66 kg Saudi Arabia Abdullah Al-Qahtani vs. Slovenia Nejc Preložnik
Welterweight 77 kg Bulgaria Nikolay Nikolov vs. Serbia Milos Cvetkovic
Bantamweight 61 kg Turkey Ahmet Şimşek vs. Serbia Miljan Zdravkovic
Background
December 18, Belgrade will host a show packed with the biggest international stars, as well as a who's who of Serbian MMA, with the most prominent names in the country being highlighted.

BRAVE Combat Federation will land in Serbia for its final show of 2021, with BRAVE CF 56 taking place in Belgrade, on December 18. The maiden Serbian fight night for the truly global MMA promotion had its full fight card revealed, counting with representatives of 11 different countries, and highlighting once again the global reach of BRAVE CF.

The nations to be represented inside the BRAVE CF Arena will be : Philippines, Serbia, South Africa, Lebanon, Latvia, Croatia, Slovenia, Saudi Arabia, Bulgaria, Poland, and Turkey.

The card will be headlined by the return of the Filipino star Rolando "The Incredible" Dy, who takes on the hometown hero Slobodan Maksimovic, from Serbia, in a 3-round Lightweight bout.

Co-headlining the night, BRAVE CF 56 will see yet another Serbia vs the world contest. Fighting at home for the first time as a BRAVE CF fighter, Miro Jurkovic faces the former Middleweight world title challenger Chad Hanekom, from South Africa.

BRAVE CF 56 will be promoted in association with Liga MMA and take place at the BelExpo Centar, in Belgrade, the third balkanic city to host a BRAVE Combat Federation fight night.

The Belgrade show will turn Serbia into the 25th country to host a BRAVE CF event, as well as the 10th European country and the 7th nation this year to welcome BRAVE CF in its land.