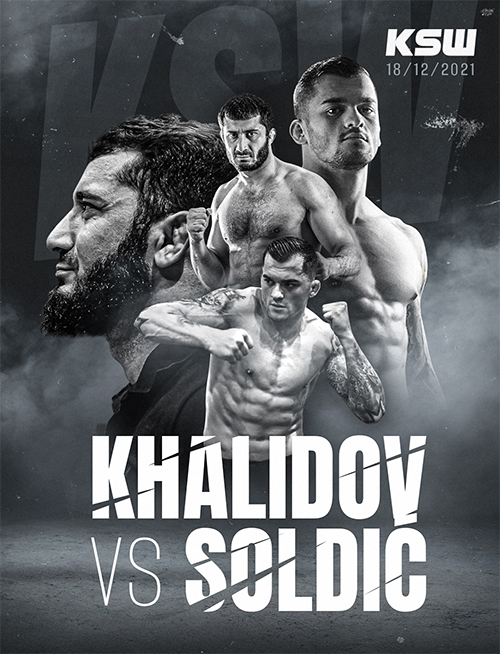 KSW 65: Khalidov vs. Soldić is an upcoming mixed martial arts event scheduled for December 18, 2021 at the Arena Gliwice in Gliwice, Poland.
Fight Card

Main Card
Middleweight 84 kg Poland Mamed Khalidov (c) vs. Croatia Roberto Soldić
Middleweight Championship
Featherweight 66 kg Brazil Daniel Torres (c) vs. France Salahdine Parnasse
Featherweight Championship
Featherweight 66 kg Poland Damian Stasiak vs. Germany Lom-Ali Eskijew
Lightweight 70 kg Poland Mateusz Legierski vs. Poland Roman Szymański
Heavyweight 120 kg Poland Michał Kita vs. Poland Marek Samociuk
Welterweight 77 kg Poland Adam Niedźwiedź vs. Czech Republic Miroslav Brož
Light Heavyweight 93 kg Poland Damian Piwowarczyk vs. Germany Marc Doussis
W.Strawweight 52 kg Poland Anita Bekus vs. Czech Republic Magdaléna Šormová
Featherweight 66 kg Poland Patryk Likus vs. Sweden Alexander Lööf
Bantamweight 61 kg Poland Shamad Erzanukaev vs. Poland Bartosz Rewera
Background
The event will feature two title fight, first a KSW Middleweight Championship bout between the reining champion Mamed Khalidov and the KSW Welterweight Champion Roberto Soldić as the event headliner. Secondly, a rematch for the KSW Featherweight Championship between the champion Daniel Torres and the former Champion Salahdine Parnasse as the event co-headliner.

On December 5, it was announced that Ion Surdu had suffered a injury in training and was pulling out of his bout with Adam Niedźwiedź. Surdu was replaced by Miroslav Brož against Niedźwiedź.

A featherweight bout between Patryk Likus and Luke Santarelli was expected to take place at this event. On December 10, Santarelli withdrew due to an injury and was replaced by Alexander Lööf.