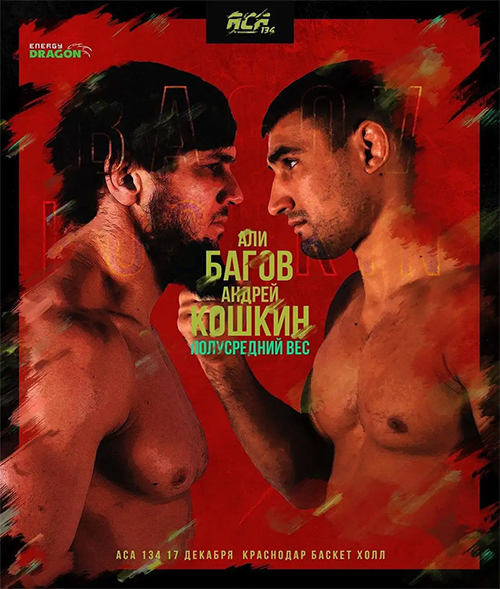 ACA 134: Bagov vs Koshkin is an upcoming mixed martial arts event scheduled for December 17, 2021 at the Basket-Hall in Krasnodar, Russia.
Fight Card

Main Card
Ali Bagov vs. Andrey Koshkin 170 lbs
Dzhikhad Yunusov vs. Islam Omarov 145 lbs
Vener Galiev vs. Artiom Damkovsky 155 lbs
Alexander Butenko vs. Khusein Khaliev 170 lbs
Alexey Polpudnikov vs. Diego Brandão 145 lbs
Amateur Card
Bartosz Leśko vs. Husein Kushagov 185 lbs
Mukhamed Kokov vs. Pavel Gordeev 155 lbs
Islam Meshev vs. Cleverson Silva 135 lbs
Ibragim Magomedov vs. Daniel Pereira 185 lbs
Makhochi Sagitov vs. Leonardo Limberger 145 lbs
Dmitriy Mikutsa vs. Murat Gugov 205 lbs
Dzhamal Magomedov vs. Zamir Aripshev 155 lbs
Background
Ali Bagov vs. Andrei Koshkin headlines #ACA134 on December 17th in Krasnodar, Russia.

The scheduled MW titlefight between Salamu Abdurakhmanov (C) and Magomedrasul Gasanov (IC) is cancelled. Abdurakhmanov is injured.