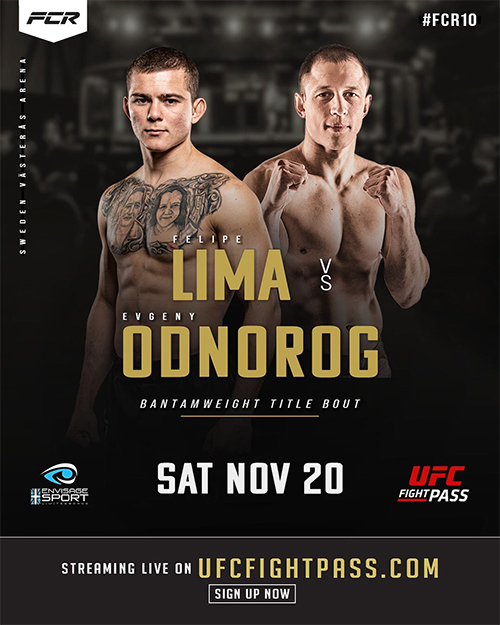 Fight Club Rush 10: Lima vs. Odnorog is an upcoming mixed martial arts event scheduled for November 20, 2021 at the Västerås Arena in Västerås, Sweden.
Fight Card

Main Card (UFC Fight Pass)
Felipe Lima vs. Evgeny Odnorog 135 lbs
Vacant Bantamweight Championship
Nermin Hajdarpašić vs. Irman Smajić 265 lbs
Moe Ahmadi vs. Christopher Bajo 170 lbs
Tobias Wallberg vs. Theodor Berggren 170 lbs
Jonny Touma vs. Enrique Sosa 135 lbs
Tayop Odunjo vs. Alejandro Toutparfait 170 lbs
Anton Hellström vs. Dimitris Dimitriadis 155 lbs
Ivana Siric vs. Alline Torquato 125 lbs
Mohamad Habal vs. Tobias Wallberg Catchweight
Jonny Touma vs. Dhawn Da Silva Catchweight
Felipe Lima vs. Kenji Bortoluzzi 135 lbs
Alexander Lööf vs. Hamid Sadid 145 lbs
Oskar Karlström Biller vs. Alexander Lindgren 170 lbs
Josefine Lindgren Knutsson vs. Lanchana Green 115 lbs
Background
Felipe Lima will face Ukrainian veteran Evgeny Odnorog with an impressive 21-6 record, who takes on the Brazilian challenge on short notice for the inaugural bantamweight belt.
Sweden's most anticipated Heavyweight bout between Irman Smajic and Nermin Hajdarpasic is also featured on the card.