Site Admin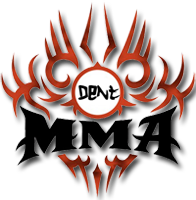 Joined: Tue Apr 07, 2009 12:53 pm
Posts: 10704
Location: In front of you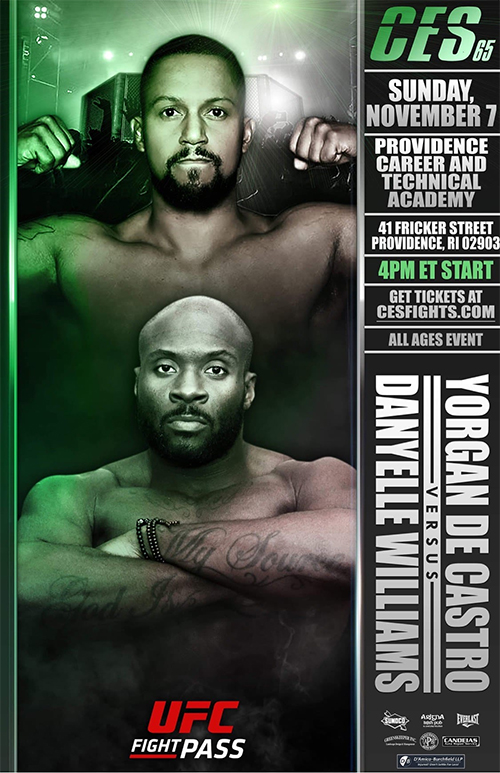 CES 65: De Castro vs. Williams is an upcoming mixed martial arts event scheduled for November 7, 2021 at the Providence Career and Technical Academy, Providence, Rhode Island, United States.
Fight Card

Main Card (UFC Fight Pass)
Yorgan De Castro vs. Danyelle Williams 265 lbs
Andre Harrison vs. Mauro Chaulet 145 lbs
Ashiek Ajim vs. Carlos Espinosa 135 lbs
John Douma vs. Tristan Lindi 135 lbs
Nathan Ghareeb vs. David Bollea 145 lbs
Pat McCrohan vs. Hugh McKenna 185 lbs
Matt Almy vs. Tim Flores 125 lbs
Ryan Pompey vs. Dru Davis-Henry 135 lbs
Tyrime Da Silva vs. Josh Hardy 145 lbs
John Gotti III vs. Aaron Hedrick 170 lbs
Aaron Hughes vs. Rakim Thorpe 145 lbs
Background
Yorgan De Castro (6-3, 5 KOs) headlines in a highly-anticipated showdown against Danyelle Williams (8-6, 6 KOs) of Minnesota as CES MMA returns to Providence.

De Castro, who was born in Cape Verde and lived in Portugal as a teenager before moving to the United States, returns to CES MMA, where he went 3-0 between 2017 and 2019 before earning a spot on Dana White's Contender Series. With a knockout win over Sanford Alton Meeks, De Castro advanced to UFC 243 and proceeded to knock out Justin Tafa in the opening round, extending his record to 6-0. De Castro's ensuing two-year stretch with the UFC included a high-profile showdown with ex-NFL standout Greg Hardy at UFC 249 and a back-and-forth battle with Brazilian heavyweight Carlos Felipe at UFC on ESPN in October of 2020.

Also fighting at CES 65, welterweight John Gotti III (5-1, 4 KOs) of Oyster Bay, NY, makes his long-awaited return to the cage against Aaron Hedrick (10-10, 1 KO) of Oklahoma and PFL and World Series of Fighting vet Andre Harrison (21-2, 3 KOs) of Long Island makes his CES MMA debut against Brazilian Mauro Chaulet (14-7, 5 KOs). Queens bantamweight Ashiek Ajim (4-1, 3 KOs) battles Carlos Espinosa (5-4, 2 KOs) of Tampa, hometown favorite John Douma (5-2, 2 KOs) of Providence faces bantamweight Tristan Lindi (2-2, 2 KOs) of Ohio, and middleweight Pat McCrohan (4-3, 3 KOs) of Berkley, MA, returns from a two-year layoff against Hugh McKenna (3-4) of Long Island.

Fresh off a big knockout win at CES 64 in September, lightweight Nate Ghareeb of Southampton, MA, battles David Bollea (5-2) of Las Vegas while flyweight Matt Almy (4-4, 1 KO) of Binghamton, NY, faces Springfield's Tim Flores (2-1). The preliminary card features a bantamweight showdown between pro debut Ryan Pompey of Providence and Dru Davis-Henry (0-2) of Hawaii in addition to Providence featherweight Tyrime Da Silva making his professional debut against Josh Hardy (0-1) of Vermont. Fall River fighters Aaron Hughes (1-1, 1 KO) and pro debut Kideby Gordon will compete in separate bouts in the featherweight and bantamweight divisions, respectively.

_________________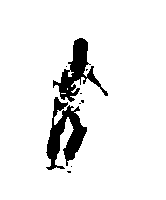 Real fast 1 gbit seedboxes - Professional support 24/7/365
Can off course be used on any tracker to gain ratio - Its pure freedom in a box!
Torrentflux or Dedicated Servers - 100% anonymous and encrypted - Welcome to try us out - 30 days money back garantuee!