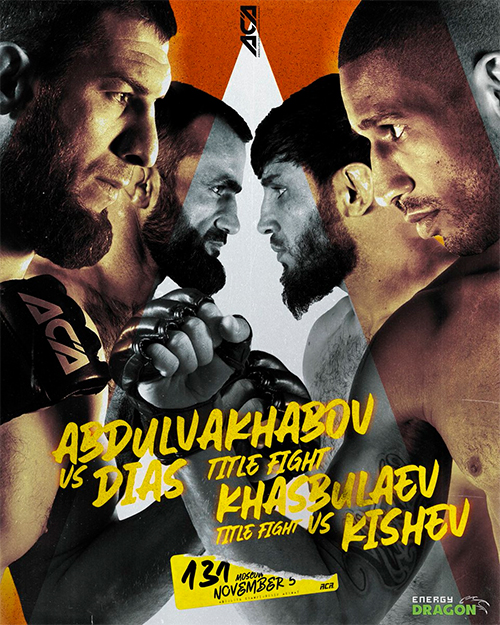 Absolute Championship Akhmat 131: Abdulvakhabov vs. Dias will be a mixed martial arts event held by Absolute Championship Akhmat on November 5, 2021 in Moscow, Russia.
Fight Card

Main Card
Lightweight 70 kg Russia Abdul-Aziz Abdulvakhabov (c) vs. Brazil Hacran Dias
Lightweight Championship
Featherweight 66 kg Russia Magomedrasul Khasbulaev (c) vs. Russia Ramazan Kishev
Featherweight Championship
Light Heavyweight 93 kg Russia Artur Astakhov vs. Russia Ivan Shtyrkov
Light Heavyweight 93 kg Russia Amirkhan Guliev vs. Ukraine Vasily Babich
Lightweight 70 kg Russia Daud Shaikhaev vs. Ukraine Samvel Vardanyan
Preliminarey Card
Heaevyweight 120 kg Russia Adam Bogatyrev vs. Brazil Francimar Barroso
Flyweight 57 kg Russia Azam Gaforov vs. Brazil Alan Gomes
Bantamweight 61 kg Russia Khusein Sheikhaev vs. Ukraine Pavel Vitruk
Middleweight 84 kg Russia Mikhail Dolgov vs. Serbia Jovan Zdelar
Bantamweight 61 kg Russia Nashkho Galaev vs. Brazil Walter Pereira
Light Heavyweight 93 kg Russia Mukhamed Aushev vs. Russia Roman Gudochkin
Bantamweight 61 kg Russia Nikita Chistyakov vs. Tajikistan Mukhitdin Kholov
Bantamweight 61 kg Russia Mehdi Baidulaev vs. Brazil Caionã Batista
Background
Two title fights were scheduled for the event: Abdul-Aziz Abdulvakhabov made the first title defense of his second lightweight title reign against Hacran Dias in the main event, while Magomedrasul Khasbulaev was scheduled to make the first defense of his featherweight title against Ramazan Kishev.

The following bonuses will be awarded: $50,000 for Performance of the Night as well as $5000 in Stoppage Victory Bonuses.