Site Admin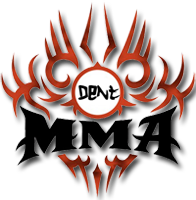 Joined: Tue Apr 07, 2009 12:53 pm
Posts: 10602
Location: In front of you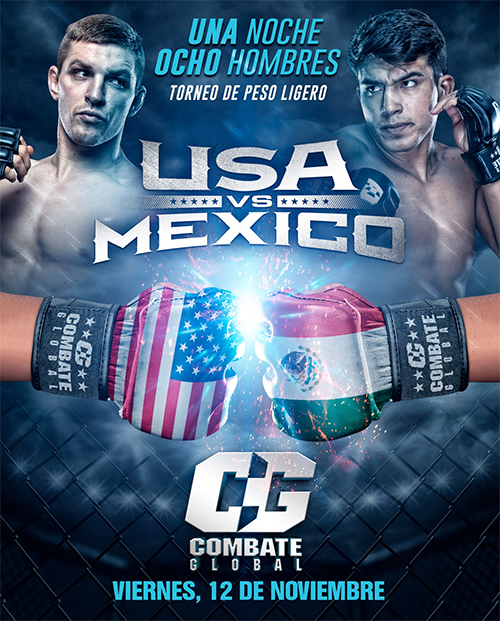 Combate Global 26: USA vs. Mexico is an upcoming mixed martial arts event scheduled for November 12, 2021 at the Univision's studios in Miami, Florida, United States.
Fight Card

Main Card
Patrick Lehane vs. Hugo Flores 155 lbs
Cristian Pérez vs. Daniel Soto 155 lbs
Jim Alers vs. Enrique González 155 lbs
Samuel Alvarez vs. Jimmy Sandlin 155 lbs
Melissa Amaya vs. Andrea Amaro 115 lbs
Background
NUEVA YORK – 8 de noviembre de 2021 – Combate Global anunció hoy un nuevo giro en su torneo de artes marciales mixtas (MMA), "Estados Unidos VS México", de peso ligero ocho hombres, una noche, con el irlandés invicto, Patrick "La Sanguijuela "Lehane (3-0), quien representará a México en el evento del viernes 12 de noviembre, en vivo desde los EE. UU. Por Univision (11 pm ET / 12 am PT) y TUDN USA (11 pm ET / 8 pm PT).

El programa también se transmitirá en México por TUDN MX, a partir de las 10 p.m. hora local.

Lehane de 22 años, proveniente de Cork, Irlanda reemplazará al participante original del torneo, Miguel "The Destroyer" Villegas de Tijuana, B.C., quien se ha retirado del compromiso debido a una lesión sufrida en el campo de entrenamiento.

Con el ánimo de representar a México en el torneo, Lehane, quien pasó dos semanas en la Ciudad de México preparándose para su debut en Combate Global el 1 de agosto, está solicitando su ciudadanía Mexicana y adoptó la traducción al español de su apodo, "La Sanguijuela. »

"La famosa cantante mexicana, Chavela Vargas, dijo una vez "Un mexicano nace donde diablos quiere nacer", dijo Campbell McLaren, CEO de Combate Global. "Aunque nació y se crió en Irlanda, Patrick Lehane ha demostrado este año que lucha como un mexicano, abrazó la cultura mexicana e incluso llegó a solicitar su ciudadanía mexicana, por lo que está tomando el relevo de nuestro luchador mexicano lesionado y representará a México en este torneo que está destinado a brindar Mucha Más Acción ".

Con la entrada de Lehane en el torneo, los enfrentamientos en el cuadro de México se han ajustado para que Lehane se enfrente a Hugo «The Hooligan» Flores (9-3) de Guadalajara, J.L. vía Chicago, Ill.

Originalmente programado para enfrentarse a Villegas, el invicto Cristian "Puas" Pérez (6-0) de Ensenada, B.C. peleará contra Daniel "Scrappy" Soto (15-5) de Ciudad Jiménez, Chih. vía Ephraim, Utah.

Un veterano de 14 combates amateur, Lehane hizo su debut profesional, así como su debut promocional, el 1 de agosto. Derrotando a dos oponentes veteranos con un combinado de dos docenas de combates profesionales, en una noche, para ganar el primer torneo europeo de Combate Global.

Solo seis semanas después de lograr la impactante victoria del torneo, Lehane regresó a la acción de Combate Global, superando por decisión dividida al mexicano Isaac Ruelas en una guerra total el 10 de septiembre.

Anunciado la semana pasada, el grupo de torneos de EE. UU. que enfrenta a Jim «The Beast» Alers (14-4) de Pembroke Pines, Florida contra Enrique «Baby Bull» González (9-4) de Chicago y Samuel «The Alley Cat» Alvarez ( 5-4) de Manteca, California contra Jimmy "Sandstorm" Sandlin (4-3) de Carlisle, Ohio en la etapa de cuartos de final de la competencia, sigue siendo el mismo.

Los ganadores de los dos combates de la etapa de cuartos de final entre peleadores estadounidenses se enfrentarán en la etapa semifinal, mientras que los vencedores de las dos peleas de la etapa de cuartos de final entre atletas mexicanos se enfrentarán en la fase semifinal.

El evento concluirá con un enfrentamiento entre Estados Unidos y México en la etapa de acción del campeonato.

Los combates de la etapa de cuartos de final del torneo y los combates de la etapa semifinal consistirán cada uno en una ronda de cinco minutos, y el combate de la etapa del campeonato constará de tres rondas de cinco minutos.

En un enfrentamiento de peso paja femenino (115 libras) fuera del torneo anunciado la semana pasada, Melissa Amaya (1-0) de Spokane, Washington peleará contra Andrea Amaro (1-1) de El Paso, Texas.
Nov 5 - Updated event date
Nov 8 - Updated fight card & background
Nov 11 - Updated fight card & background

_________________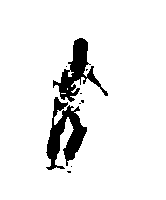 Real fast 1 gbit seedboxes - Professional support 24/7/365
Can off course be used on any tracker to gain ratio - Its pure freedom in a box!
Torrentflux or Dedicated Servers - 100% anonymous and encrypted - Welcome to try us out - 30 days money back garantuee!