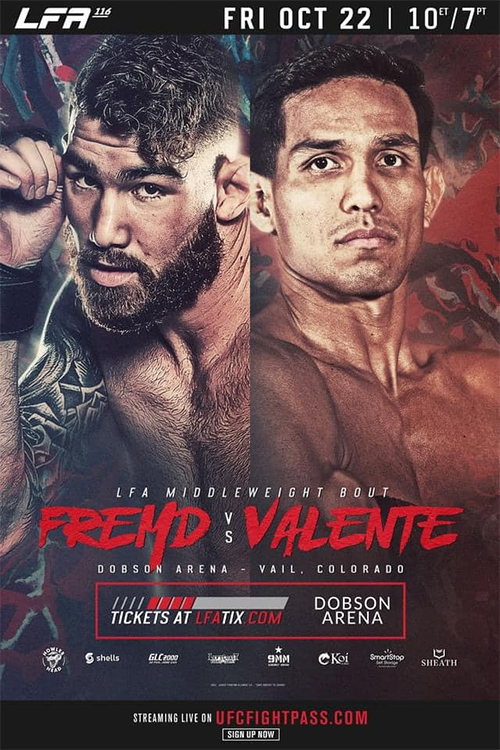 Legacy Fighting Alliance 116: Fremd vs. Valente is an upcoming mixed martial arts event scheduled for October 22, 2021 at the Dobson Arena in Vail, Colorado, United States.
Fight Card

Main Card (UFC Fight Pass)
Middleweight Josh Fremd vs. Renato Valente
Bantamweight Daniel Argueta vs. Rodney Mondala
Featherweight Michael Stack vs. Jackson Filho
Women's Strawweight Pauline Macias vs. Marnic Mann
Welterweight Jalin Fuller vs. Ryan Charlebois
Welterweight Haris Talundžić vs. Brock Smith
Lightweight Jacobi Jones vs. Logan Paxton
Preliminary Card
Flyweight Llorrvic Acevedo vs. Josiah Reyes
Women's Flyweight Jena Bishop vs. Helen Lucero
Women's Strawweight Brittany Camozzi vs. Kelsey Arnesen
Amateur Card
Featherweight Isaiah Diggs vs. Gabe Parrot
Bantamweight Luis Gurule vs. DeMarcus Patterson
Catchweight (165 lbs) Bryant Ireland vs. David Evenson
Featherweight Jovan Gasper vs. Jota Ninomiya
Background
Fremd (7-2) is one of the most exciting prospects in the sport after making the most of his opportunities in 2020. The western Pennsylvania native immediately burst onto the global MMA scene shortly after singing with the LFA. This happened after the 27-year-old made the move to the mountains of Colorado to train at Factory X. It is there, where he began training regularly with Anthony Smith and many other UFC fighters. The improvement immediately showed. Fremd destroyed Lamar Gosey and Contender Series alum Antonio Jones in a span of seven weeks to earn a spot in the LFA Middleweight Tournament. In the first semi-final of the tournament, Fremd scored a third consecutive highlight reel knockout against another Contender Series alum Bruno Oliveira in the main event of LFA 98. The win got him a shot at the LFA middleweight title, which is an outcome he hopes to recreate heading into the main event of LFA 116.

Valente (8-4) is the next exciting LFA middleweight prospect to hail from Brazil. In just the past three months, LFA has sent Brazilian stars Alex "Poatan" Pereira and Gregory "Robocop" Rodrigues to the UFC. Pereira is widely-regarded as the most dangerous striker on the planet, while Rodrigues is the former LFA middleweight champion. In fact, Rodrigues is the man that defeated Fremd in the finale of the LFA Middleweight Tournament to win the LFA title and earn a UFC contract. Those are the same two goals that Valente shares with his countryman. In order to do so, he must also find a way to get past Fremd, the reigning "LFA Male Fighter of the Year. The 29-year-old Brazilian known as "Índio" earned his first LFA main event slot by defeating previously undefeated LFA star and Contender Series alum Chibwikem Onyenegecha. The win came in the co-main event of LFA 110 in Onyenegecha's home state of Oklahoma.