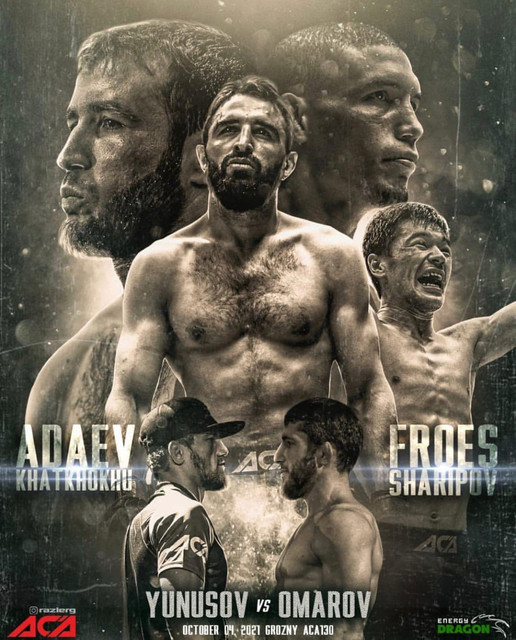 ACA 130: Vagaev vs. Gadzhidaudov is an upcoming mixed martial arts event scheduled for October 4, 2021 at the Sports Hall Coliseum in Grozny, Chechnya, Russia.
Fight Card

Main Card
Abubakar Vagaev vs. Ustarmagomed Gadzhidaudov 170 lbs
Welterweight Championship
Abdul-Rakhman Dudaev vs. Rodrigo Praia 135 lbs
Khuseyn Khaliev vs. Stanislav Vlasenko 170 lbs
Dzhihad Yunusov vs. Islam Omarov 145 lbs
Chersi Dudaev vs. Georgy Kichigin 170 lbs
Preliminarey Card
Yunus Evloev vs. Alesandro Praia 125 lbs
Azamat Amagov vs. Irwing Romero Machado 170 lbs
Nurbergen Sharipov vs. Felipe Froes 145 lbs
Rustam Kerimov vs. Daniel Oliveira de Almeida 135 lbs
Imran Bukuev vs Maycon Silvan 135 lbs
Elias Silverio vs. Altynbek Mamashov 170 lbs
Mansur Khatuev vs. Charles Henrique 135 lbs
Amirkhan Adaev vs. Bayzet Khatkhokhu 155 lbs
Alexey Efremov vs. Arsen Sultanov 185 lbs
Murad Kalamov vs. Sanzhar Azhibaev 135 lbs
Abubakar Mestoev vs. Alik Saydoyan 155 lbs
Background
The event is headlined by a welterweight championship bout between Abubakar Vagaev vs. Ustarmagomed Gadzhidaudov.

The following bonuses will be awarded: $50,000 for Performance of the Night as well as $5000 in Stoppage Victory Bonuses.