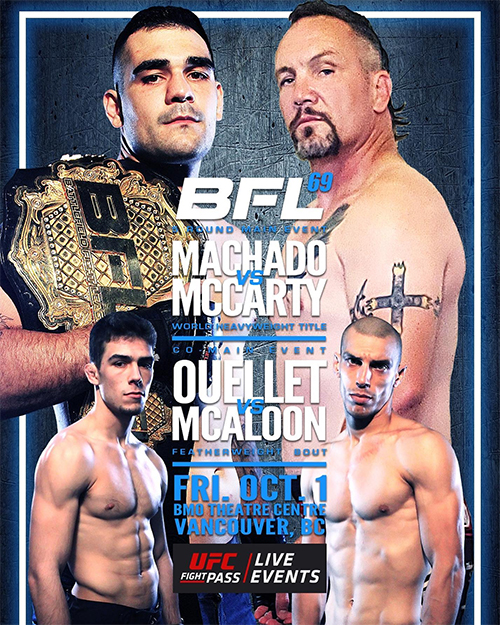 BFL 69: Machado vs. McCarty is an upcoming mixed martial arts event scheduled for October 1, 2021 at the BMO Theatre Centre in Vancouver, British Columbia, Canada.
Fight Card

Main Card (UFC Fight Pass)
Caio Machado vs. Randy McCarty 265 lbs
Heavyweight Championship
Nic Ouellet vs. Mike McAloon 145 lbs
Indroop Virk vs. Austin Russell 131 lbs
Leo Xavier vs. Rafael Palomeque 175 lbs
Seth Connor vs. Gwyn Berry 145 lbs
Jonathan Broad vs. Kenny Pope 170 lbs
Amateur Card
Jag Bhullar vs. Rizwan Qureshi 265 lbs
Amateur Heavyweight Championship
Mani El-Hefnawi vs. Kees Huisman 135 lbs
Background
Caio Machado (5-1) does his heavyweight title defense against Randy McCarty (6-12) at BFL 69. McCarty hasn't taken a break from the professional fight since 2012. He participated in the final MMA battle at Southwest Broll 10 in 2019, winning four of the last five boxing matches. Machado is not a stranger fighting under BFL Banner because this is the only promotion he has fought since making his MMA pro debut in 2017. He is participating in this battle with the momentum to win the last four battles.