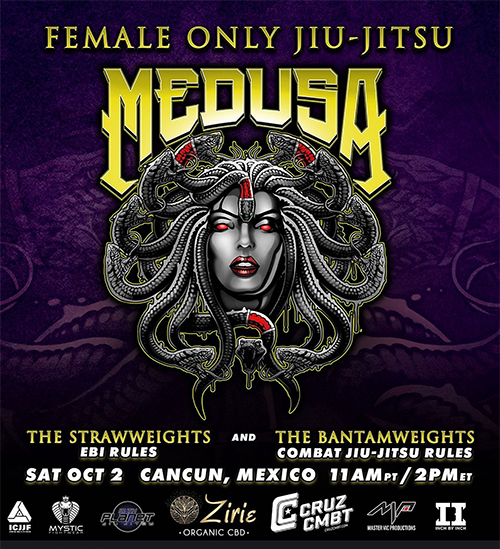 Medusa 1: Female only Jiu-Jitsu tournament is an upcoming grappling event scheduled for October 2, 2021 at La Riviera Maya in Cancun, Mexico.
Fight Card

Combat Jiu-Jitsu Rules Bantamweight Bracket
@briannasm
@biamesquitajj
@savage_ufc
@missgrappling
@nikkicuddlejitsu
@laurahhallock
@brazilianjjgirl
EBI Rules Strawweight Bracket
@ritalynne
@trinity_pun_bjj
@fatima_kline
@lilmonsterdemo
@gphbrittany
@celinehaga
@samm.villarreal
Background
Two 8-Female Tournaments in one night. They will be judged under Combat Jiu-Jitsu rules for the Bantamweight tournament and EBI rules for the Strawweight.