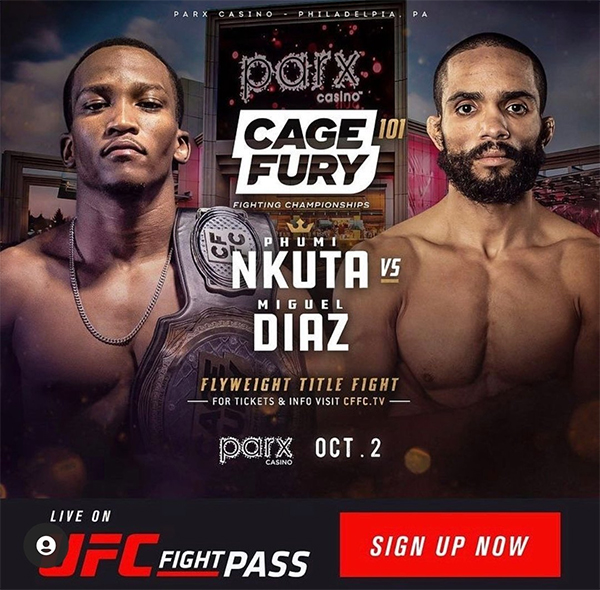 CFFC 101: Diaz vs. Nkuta is an upcoming mixed martial arts event scheduled for October 2, 2021 at the Parx Casino in Bensalem, Pennsylvania, United States.
Fight Card

Main Card (UFC Fight Pass)
Phumi Nkuta vs. Miguel Junior Diaz 125 lbs
Flyweight Championship
Jonathan Piersma vs. Kris Vereen 170 lbs
Efren Escareno vs. Charalampos Grigoriou 135 lbs
Regivaldo Carvalho vs. Teves 145 lbs
Jeremiah Labiano vs. Tim Dooling 145 lbs
Greg Velasco vs. Jacob Heavlin 265 lbs
Amateur Card
Mark Grey vs. Justin Carter 145 lbs
Amateur Vacant Featherweight Championship
Riley Holgun vs. William Palmer 135 lbs
Dymere Viana vs. Jason Rappa (Catchweight)
Nick Robinson vs. Dominic Gebhard 125 lb
Tramel vs. Lieshi (Catchweight)
Victor Mena vs. Manny Morales 185 lbs
Background
The CFFC 101 main event is a battle for supremacy at 125 lbs. Incumbent CFFC Flyweight Champion Phumi Nkuta (3-0 MMA, 2-0 CFFC) will attempt to make good on his first title defense as he battles challenger Miguel Junior Diaz (3-1 MMA, 3-1 CFFC),

As with all CFFC main events, the CFFC 101 main event will be a maximum of four rounds at five minutes per round. Should the scorecards be even after 20 minutes of action, the CFFC 101 main event will progress to a five-minute fifth-round as a tiebreaker.