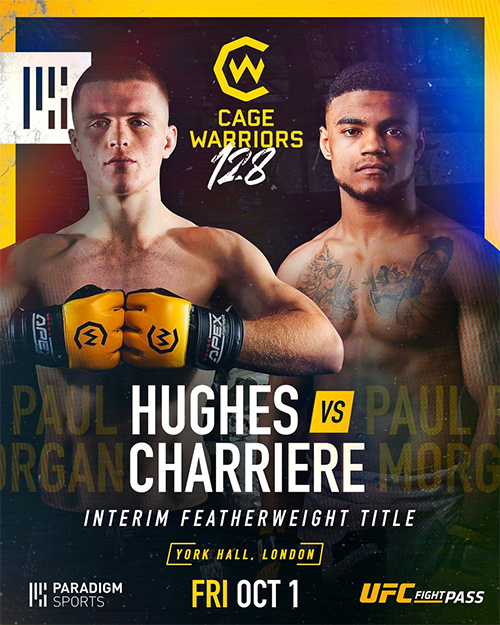 Cage Warriors 128: Hughes vs. Charriere is an upcoming mixed martial arts event scheduled for October 1, 2021 at the York Hall in London, England, United Kingdom.
Fight Card

Main Card (UFC Fight Pass)
Paul Hughes vs. Morgan Charriere 145 lbs
Interim Featherweight Championship
Gerardo Fanny vs. Liam Gittins 125 lbs
Adam Amarasinghe vs. Michele Martignoni 125 lbs
John Palaiologos vs. Jesse Urholin 170 lbs
Jonathan Bosuku vs. Will Currie 185 lbs
Kamil Wincenciak vs. Luke Riley 135 lbs
Preliminary Card
Omiel Brown vs. James Sheehan 170 lbs
Aidan Stephen vs. Edward Walls 140 lbs
Aidan James vs. Philippe Rouch 135 lbs
Background
An interim Cage Warriors title will be on the line on Cage Warriors 128.

With champion Jordan Vucenic still sidelined with an injury, Paul Hughes (7-1) will take on former champ Morgan Charriere (16-8-1) for the interim featherweight belt in the Cage Warriors 128 main event.