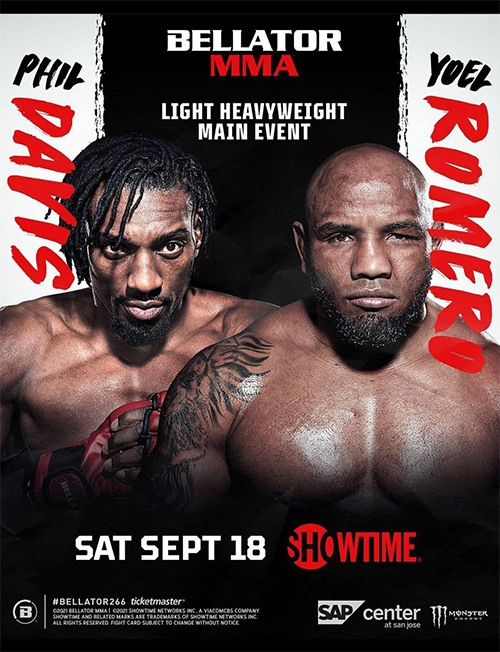 Bellator 266: Davis vs. Romero is a mixed martial arts event produced by the Bellator MMA that is expected to take place on September 18, 2021, at the SAP Center in San Jose, California, United States.
Fight Card

Main Card (Showtime)
Light Heavyweight Yoel Romero vs. Phil Davis
Welterweight Neiman Gracie vs. Mark Lemminger
Women's Flyweight Alejandra Lara vs. DeAnna Bennett
Lightweight Georgi Karakhanyan vs. Saul Rogers
Light Heavyweight Christian Edwards vs. Ben Parrish
Preliminary Card (Youtube/Pluto TV)
Light Heavyweight Grant Neal vs. Alex Polizzi
Middleweight Khalid Murtazaliev vs. Anthony Adams
Catchweight (175 lb) Abraham Vaesau vs. Albert Gonzales
Bantamweight Socrates Hernandez vs. Pedro Juarez
Bantamweight Bobby Seronio III vs. Erick Gunha
Welterweight Rhalan Gracie vs. Shane Keefe
Catchweight (160 lb) Eddie Abasolo vs. Art Hernandez
Flyweight Edwin De Los Santos vs. Jon Adams
Catchweight (130 lb) Jesse Delgado vs. Joshua Dillon
Background
Former UFC middleweight title contender Yoel Romero will make his long-awaited Bellator debut against Phil Davis, another former UFC contender, on Sept. 18 in San Jose, Calif., per sources. Romero, 44, was slated to debut for the promotion in the first round of their light heavyweight tournament against Anthony Johnson in May, but he was forced to withdraw due to a medical issue concerning his eye.

The comain featured a bout between #4 ranked Welterweight Neiman Gracie and Mark Lemminger.

A women's flyweight bout between Alejandra Lara and DeAnna Bennett was scheduled for Bellator 263. The bout was rescheduled for unknown reasons to take place at this event. On August 13, it was announced that the bout was moved once again, this time to this event.

A lightweight bout between Adam Piccolotti and Saul Rogers was scheduled for this event. However, Piccolotti pulled out of the bout due to unknown reasons and was replaced by Georgi Karakhanyan.