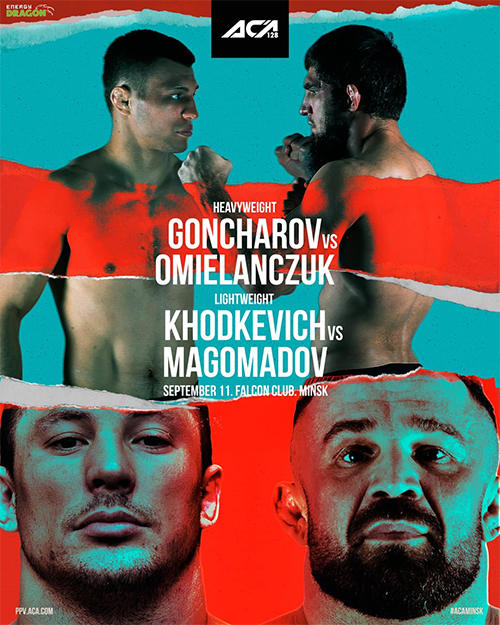 ACA 128: Goncharov vs. Omielańczuk is an upcoming mixed martial arts event scheduled for September 11, 2021 at the Falcon Arena in Minsk, Belarus.
Fight Card

Main Card
Heavyweight 120 kg Russia Evgeny Goncharov vs. Poland Daniel Omielańczuk
Lightweight 70 kg Russia Viskhan Magomadov vs. Belarus Ilya Khodkevich
Middleweight 84 kg Russia Arbi Agujev vs. United States Chris Honeycutt
Lightweight 70 kg Russia Musa Khamanaev vs. Romania Aurel Pirtea
Preliminary Card
Flyweight 57 kg Brazil Miguel Felipe Bunes da Silva vs. Finland Mikael Silander
Middleweight 84 kg Russia Ibragim Magomedov vs. Poland Bartosz Leśko
Middleweight 84 kg Ukraine Vadim Shabadash vs. Belarus Vladislav Yankovsky
Welterweight 77 kg Ukraine Alexander Butenko vs. Lithuania Mindaugas Veržbickas
Featherweight 66 kg Bulgaria Plamen Bachvarov vs. Georgia Raul Tutarauli
Heavyweight 120 kg Lithuania Tomas Pakutinskas vs. United States Daniel James
Bantamweight 61 kg Russia Emran Israfilov vs. Slovakia Tomáš Deák
Flyweight 57 kg Ukraine Ruslan Abiltarov vs. Georgia Vazha Tsiptauri
Background
The event is headlined by a heavyweight bout between Evgeny Goncharov and Poland Daniel Omielańczuk.

The following bonuses will be awarded: $50,000 for Performance of the Night as well as $5000 in Stoppage Victory Bonuses.