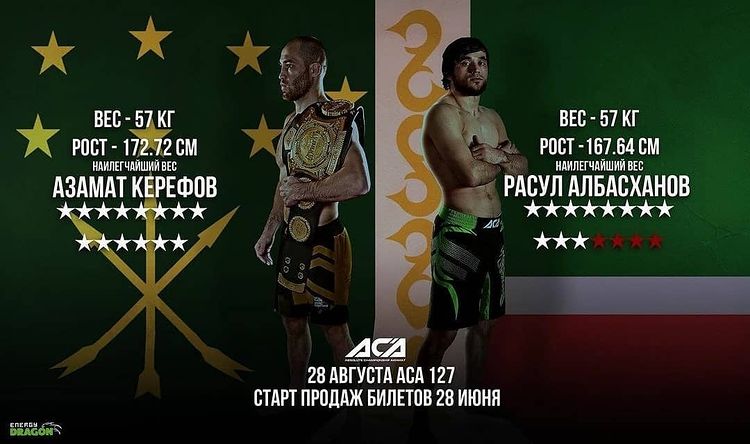 ACA 127: Kerefov vs. Albaskhanov is an upcoming mixed martial arts event scheduled for August 28, 2021 at the Krasnodar Basket-Hall in Krasnodar, Russia.
Fight Card

Main Card
Flyweight 57 kg Russia Azamat Kerefov (c) vs. Russia Rasul Albaskhanov
Flyweight Championship
Middleweight 84 kg Russia Artem Frolov vs. Russia Abdul-Rahman Dzhanaev
Featherweight 66 kg Russia Salman Zhamaldaev vs. Brazil Diego Brandão
Featherweight 66 kg Russia Andrey Goncharov vs. Belarus Apti Bimarzaev
Welterweight 77 kg Russia Murad Abdulaev vs. Russia Andrei Koshkin
Preliminary Card
Lightweight 70 kg Russia Mukhamed Kokov vs. Russia Lom-Ali Nalgiev
Bantamweight 61 kg Russia Oleg Borisov vs. Russia Islam Meshev
Middleweight 84nbsp;kg Russia Vitaly Nemchinov vs. Russia Beslan Ushukov
Heavyweight 120 kg Russia Mukhumat Vakhaev vs. Brazil Raphael Pessoa
Flyweight 57 kg Russia Azamat Pshukov vs. Russia Kurban Gadzhiev
Light Heavyweight 93 kg Russia Elkhan Musaev vs. Russia Adlan Ibragimov
Featherweight 66 kg Russia Makhochi Sagitov vs. Russia Davlatmand Chuponov
Background
The main event will feature Azamat Kerefov who made his second ACA Flyweight title defense against the #3 ranked Rasul Albaskhanov.

A Featherweight title bout between the champion Magomedrasul Khasbulaev and the challenger Ramazan Kishev was previously scheduled for ACA 127. However, on August 4, Khasbulaev was removed from the card because of an injury, the title bout was moved to ACA 131.

The following bonuses will be awarded: $100,000 for Performance of the Night as well as $5000 in Stoppage Victory Bonuses.