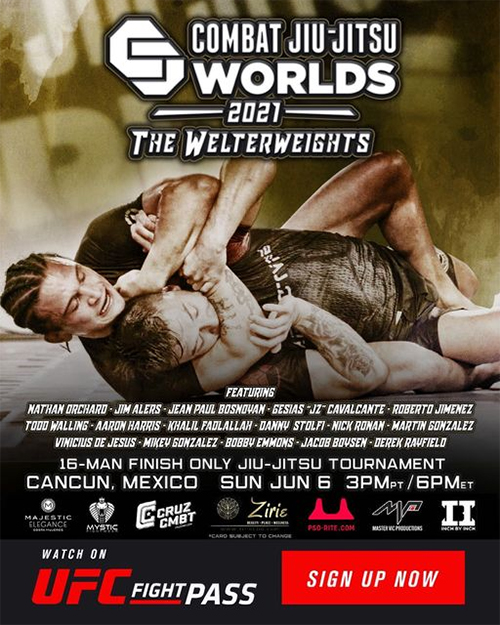 Combat Jiu-Jitsu Worlds 2021: The Welterweights is an upcoming grappling event scheduled for June 6, 2021 at the Majestic Resorts Costa Mujeres in Cancun, Mexico.
Fight Card

Main Card
Nathan Orchard
Jim Alers
Jean Paul Bosnoyan
Gesias Cavalcante
Roberto Jimenez
Todd Walling
Aaron Harris
Khalil Fadlallah
Danny Stolfi
Nick Ronan
Martin Gonzalez
Vinicius de Jesus
Mikey Gonzalez
Bobby Emmons
Jacob Boysen
Derek Rayfield
Special Match
PJ Barch vs. Jorge Tax
Background
The event will feature a special match between CJJW Finalist and 10th Planet Black Belt PJ Barch and CJJW Qualifier Finalist and Professional MMA Fighter Jorge Tax.

EBI is a submission only jiu-jitsu tournament, featuring 16 competitors with the winner taking home a possible $20,000. Every EBI tells the story of one man who fights his way to the top of the bracket, defeating four others in a contest of masterful techniques, strength, and will. No points. No advantages. Submission Only.