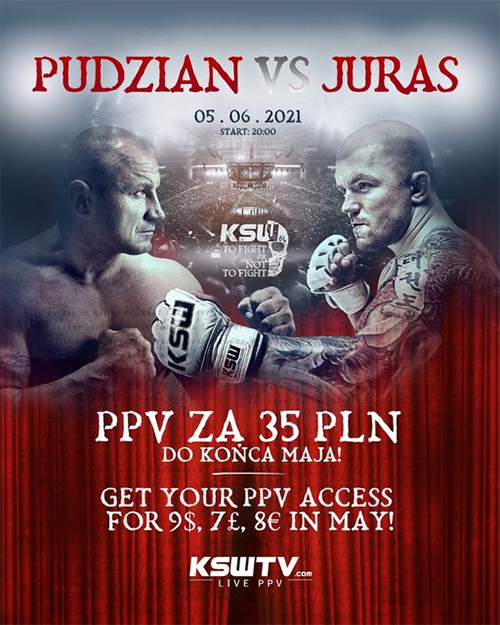 KSW 61: To Fight or Not To Fight is an upcoming mixed martial arts event scheduled for June 5, 2021 at the Ergo Arena in Gdańsk, Poland.
Fight Card

Main Card
Heavyweight 120 kg Poland Mariusz Pudzianowski vs. Poland Łukasz Jurkowski
Featherweight 66 kg France Salahdine Parnasse vs. Croatia Filip Pejić
Welterweight 77 kg Poland Tomasz Romanowski vs. Czech Republic Patrik Kincl
Heavyweight 120 kg Poland Michał Kita vs. Serbia Darko Stošić
Lightweight 70 kg Poland Roman Szymański vs. Belgium Donovan Desmae
W.Strawweight 52 kg Poland Karolina Owczarz vs. Slovenia Monika Kucinic
Light Heavyweight 93 kg Poland Przemysław Mysiala vs. Croatia Ivan Erslan
Featherweight 66 kg Poland Damian Stasiak vs. Ukraine Andrey Lezhnev
Lightweight 70 kg Poland Jakub Kamieniarz vs. Poland Adam Niedźwiedź
Background
The event was planned to be held at the Gdańsk Shakespeare Theatre. However, the event was moves to the Ergo Arena in Gdansk. On May 10 it was announced fans will be able to attend the event, KSW 61 will operate at a 50% capacity due to government guidelines.

The main event featured a heavyweight bout between the former World's Strongest Man Mariusz Pudzianowski and KSW 1 tournament winner Łukasz Jurkowski.

Tomasz Romanowski was scheduled to fight Patrik Kincl in a welterweight bout.

A featherweight bout between Filip Pejić and the former KSW Featherweight champion Salahdine Parnasse was scheduled for the event.

Two former KSW Light-heavyweight title challengers, Przemysław Mysiala and Ivan Erslan, were scheduled to face each other.

Roman Szymański was scheduled to fight Donovan Desmae in a lightweight bout. Adam Niedźwiedź and Jakub Kamieniarz were likewise scheduled to face each other in a lightweight bout.

A heavyweight bout between the former KSW title contender Michal Kita and the UFC veteran Jay Silva was scheduled for the event. Jay Silva later withdrew from the bout, for undisclosed reasons, and was replaced by Darko Stošić.

Karolina Owczarz was scheduled to fight Monika Kucinic at strawweight in the sole WMMA bout of the event.