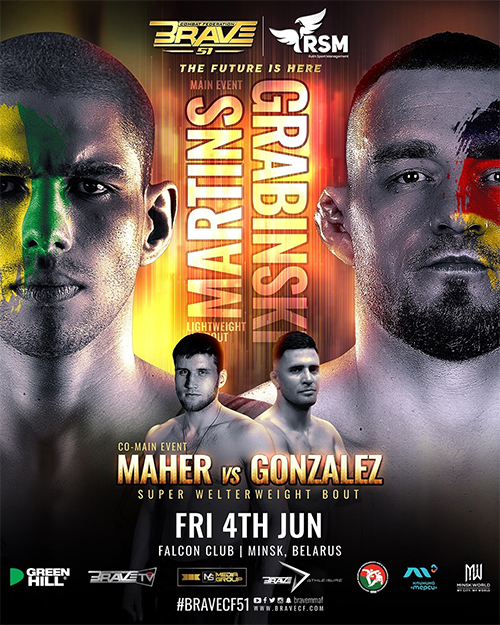 BRAVE CF 51: The Future Is Here is an upcoming mixed martial arts event scheduled for June 4, 2021 at the Falcon Club in Minsk, Belarus.
Fight Card

Main Card
Lightweight 71 kg Brazil Lucas Martins vs. Germany Marcel Grabinski
Super Welterweight 79.5 kg Belarus Denis Maher vs. Kazakhstan Rinat Sagyntay
Lightweight 71 kg France Ylies Djiroun vs. England Sam Patterson
Super Welterweight 79 kg Belarus Vadim Kutsyi vs. Kyrgyzstan Daniyar Abdibaev
Featherweight 66 kg Russia Roman Bogatov vs. Russia Abdulmutalip Gairbekov
Catchweight 59 kg BahrainUnited Kingdom Muhammad Mokaev vs. Georgia (country) Ibragim Navruzov
Bantamweight 61 kg Belarus Vladislav Novitskiy vs. France Yanis Ghemmouri
Bantamweight 61 kg Russia Aydemir Kazbekov vs. Afghanistan Abdul Karim Badakhshi
Flyweight 57 kg Russia Badmatsyren Dorzhiev vs. Kyrgyzstan Almanbet Abdyvasy Uulu
W.Strawweight 52 kg Russia Anastasia Feofanova vs. Turkey Sevde Turk
Light Heavyweight 93 kg Belarus Vadim Rolich vs. Kyrgyzstan Abylkasim Yakubov
Catchweight 64.3 kg Belarus Murat Azerbiev vs. Belarus Evgeniy Sleptsov
Background
This main event will feature a fight between former UFC fighter Lucas Martins and Marcel Grabinski.

In the co-main event Denis Maher was scheduled to fight Giannis Bachar in a super welterweight bout, but Bachar has been forced to withdraw due to an injury. Fernando Gonzalez has stepped in as a replacement. Unfortunately, Gonzalez has been forced to pull due to an undisclosed injury. Maher instead faced Rinat Sagyntay, who stepped in on 3 weeks notice for this encounter.

It was announced that Ylies Djiroun would fight Sam Patterson at lightweight. One-time UFC fighter Roman Bogatov was expected to fight Abdulmutalip Gairbekov.