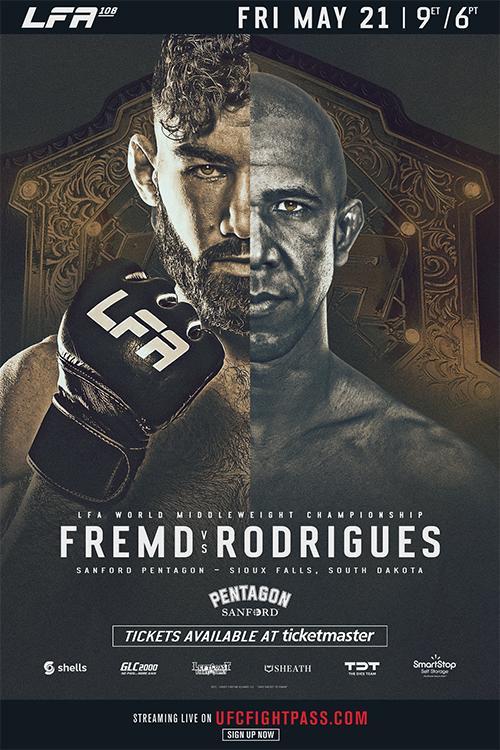 LFA 108: Fremd vs. Rodrigues is an upcoming mixed martial arts event scheduled for May 21, 2021 at the Sanford Pentagon in Sioux Falls, South Dakota, United States.
Fight Card

Main Card (UFC Fight Pass)
Light Heavyweight Josh Fremd vs. Gregory Rodrigues
Vacant Middleweight Championship
Flyweight Rodney Kealohi vs. Mark Climaco
Flyweight Clayton Carpenter vs. Nick Clem
Women's Strawweight Tiani Valle vs. Kathryn Paprocki
Welterweight Tyler Ray vs. Renato Valente
Heavyweight Thomas Petersen vs. Richard Foster
Preliminary Card
Welterweight Ben Goodwin vs. Sarek Shields
Welterweight Keith Phathaem vs. Archie Colgan
Heavyweight Bailey Schoenfelder vs. James Munoz
Bantamweight Bryce Meredith vs. Steven Merrill
Amateur Bouts
Middleweight Jeff Nielsen vs. C.J. Hays
Women's Bantamweight Cheyanne Bowers vs. Eva Brundage
Background
The main event featured a middleweight title fight between two of the most exciting knockout artists in the division. Josh Fremd (7-1) and Gregory Rodrigues (8-3) both earned their shot at the LFA Middleweight Championship by advancing to the finale of the LFA Middleweight Tournament, which began in January.