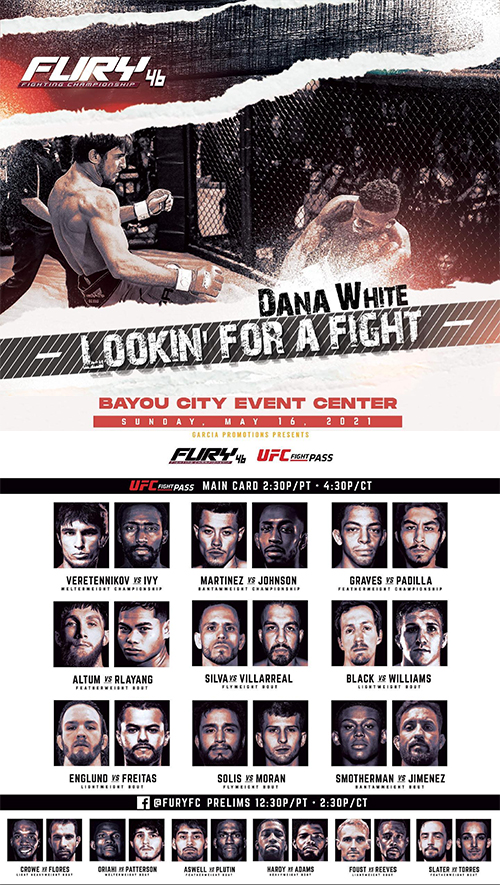 Fury FC 46: Dana White Lookin For a Fight (also known as Veretennikov vs. Ivy) is an upcoming mixed martial arts event scheduled for May 16, 2021 at the Bayou City Event Center in Houston, Texas, United States.
Fight Card

Main Card (UFC Fight Pass)
Nikolay Veretennikov vs. Anthony Ivy 170 lbs
Welterweight Championship
Mana Martinez vs. Jose Johnson 135 lbs
Bantamweight Championship
Cameron Graves vs. Fernando Padilla 145 lbs
Featherweight Championship
Theo Rlayang vs. Josh Altum 145 lbs
Jacob Silva vs. Randy Villarreal 125 lbs
Alec Williams vs. Will Morris 155 lbs
Edmilson Freitas vs. Kolton Englund 155 lbs
Shawn Solis vs. Paris Moran 125 lbs
Carlos Jimenez vs. Cameron Smotherean 135 lbs
Preliminary Fights (Facebook)
Ty Flores vs. Larry Crowe 205 lbs
Morgan Oriahi vs. Michael Patterson 170 lbs
Juan Adams vs. Jeremy Hardy 265 lbs
Aaron Reeves vs. Alex Black 155 lbs
Jordan Plutin vs. Michael Aswell 145 lbs
Andrew Slater vs. Justice Torres 145 lbs
Background
This talent stacked card is to be watched live by Dana White scouting talent as he films the return of Looking for a Fight. We can expect the fighters to bring on their absolute best to impress the big boss on this night of three title fights.