READ THIS FIRST:
The guide below refers to Wesellcrypto. But Wesellcrypto have "Purchasing disabled" more and more often these days, so if that is the case when you check their site, we recommend that you read this other guide for how to get Bitcoins using PayPal with Wirwox instead! Just make sure that the bitcoins are sent to 3FcDVWLc7ATYxy2Xnix5XPFoHgHVfZnZ4U and remember to contact us by email ( contact@mma-torrents.com ) when it is sent. Unfortunately Wirwox is the only alternative to Wesellcrypto there is.
Wirwox PayPal to Bitcoin Guide
But in case Wesellcrypto have their purchasing enabled again:
How to make a bitcoin donation in 4 easy steps
using WeSellCrypto.com

This guide will show you how to make a Bitcoin donation using PayPal
---
1. Verify your PayPal email
Wesellcrypto wants you to send them an email from your PayPal email (the email you have registered with PayPal) before you can buy bitcoins.
Its an easy process and only has to be done first time. Future donations will not need verification.
Our Bitcoin address is verified with them so your email should be verified quickly.

What you should do is the following.
First send an email to support@wesellcrypto.com with this content (change name and location to your real details):
Subject:
I want up to $15 worth per day
Body:
Full name (John Doe)
Location (Some city, Some country)
Primary interest in cryptocurrencies (Donation to 3FcDVWLc7ATYxy2Xnix5XPFoHgHVfZnZ4U)
How much you expect to buy (up to 15$ worth a day)
Screenshot: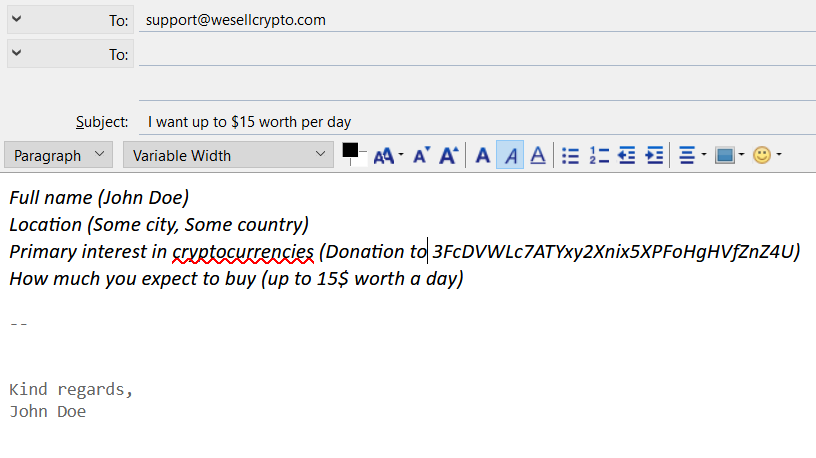 ---
2. Click purchase button
Wait for their email reply. Once your email is verified you can buy and send the bitcoins in less than 60 seconds.
Once verified, go to https://wesellcrypto.com/ and click the "Make a purchase" button.
Screenshot:

---
3. Choose bitcoin
On the screen that is shown when you click the purchase button choose Bitcoins and click Next.
Screenshot: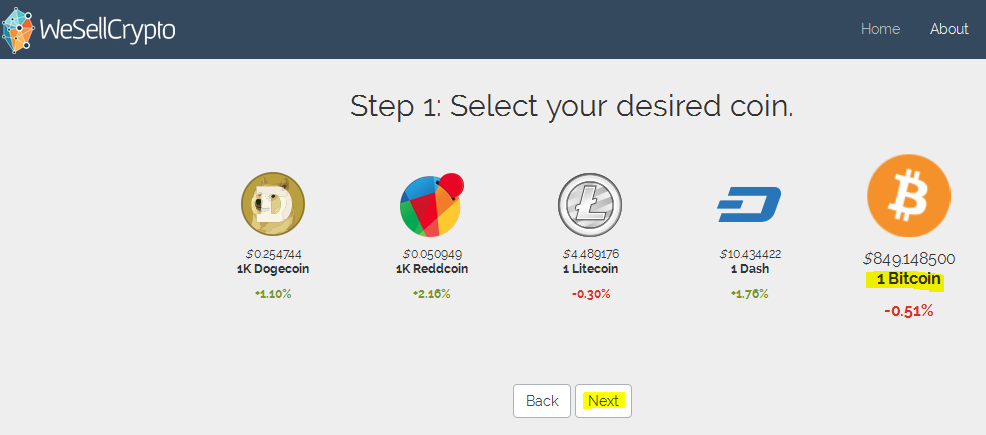 ---
4. Enter details
You are now prompted to enter some information.
Enter your desired donation amount in the USD ($) field (the Bitcoin field will update automatically).
Then enter the bitcoin address 3FcDVWLc7ATYxy2Xnix5XPFoHgHVfZnZ4U in the Bitcoin address field.
Finally enter your email in the PayPal Email field.
Then click Next.
Screenshot: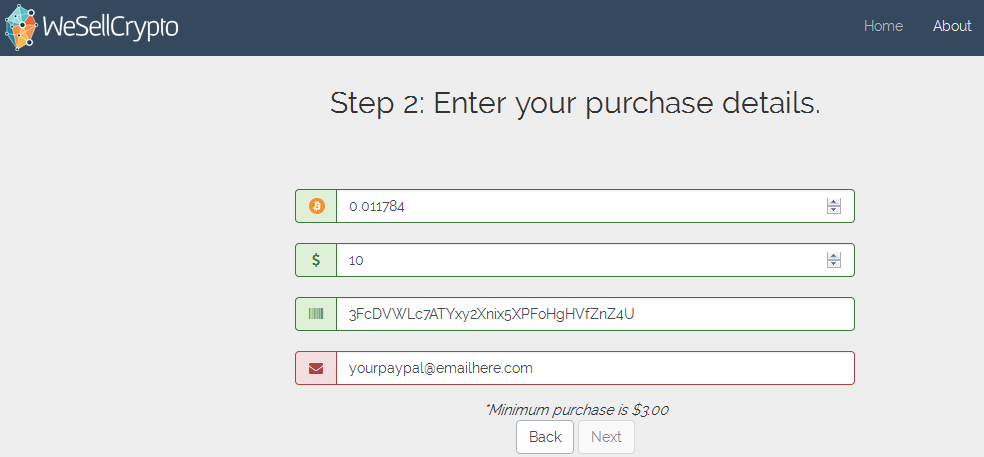 ---
You will now be taken to the PayPal login screens where you login and accept the purchase just like any PayPal purchase.
That's it, you are done!
Now send us a message and we will update your account accordingly.

Members: Click to send message to staff with your details and how much you sent.

Non Members, email us: contact@mma-torrents.com with your details and how much you sent.
We will send out an invite so that you can register. Once registered you then contact us again with your username.
We will upgrade your account to VIP etc. according to the donation you made.