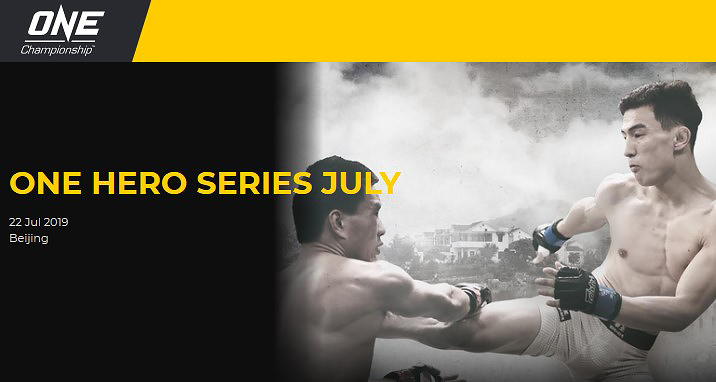 ONE Hero Series July is a mixed martial arts event scheduled to take place on July 22, 2019 in Shanghai, China.
Fight card

Main card
Featherweight Muay Thai Lu Rui Lei vs. Zhang Wan Xin
Lightweight Chang Shuai vs. Ding Meng
Bantamweight Liu Meng Yu vs. Wang Jing Jia
Featherweight Kickboxing Luo Chao vs. Zhang Meng Fei
Strawweight Li Hong Lin vs. Ze Ru
Catch Weight (63.0KG) Xiatihe Zhumatai vs. Fan Jia Le
Bantamweight Muay Thai Hu Bin Qian vs. Zhang Shuai
Flyweight Muay Thai Yuan Hao vs. Huang Ding
Strawweight Wang Jian Hong vs. Sha Ni Du
Background
The search for Asia's next martial arts superstar begins! Held across 12 events in 2019, ONE Hero Series will see the very brightest prospects in China battling for a place on the global stage of ONE Championship. With their martial arts dreams on the line, these young hopefuls will give their all to put on a spectacular show. Be sure to catch them in action!

All fighter on this card are from China.

In the main event, two of the most seasoned competitors in the organization will meet under kickboxing rules in the bantamweight division as "The Zhongyuan Weapon" Lu Rui Lei (26-3) faces "The Anesthetist" Zhang Wan Xin (31-5).

Lu is coming off a decision victory against Luo Chao in April at featherweight, and another win for the 21-year-old from Beijing will move him one step closer to the big show. Zhang will return to OHS for the second time after his debut in May.
Jul 17 - Updated fight card & background