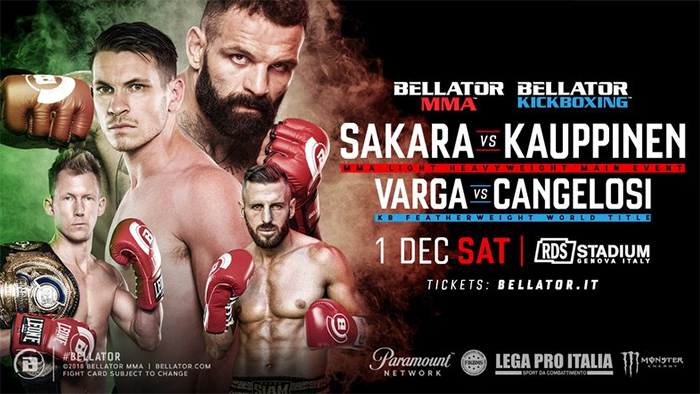 Bellator 211: Sakara vs. Kauppinen is a mixed martial arts event scheduled to take place on December 1, 2018 at the RDS Stadium in Genoa, Italy.
Fight card

Main card (Paramount Network and DAZN)
Light Heavyweight Alessio Sakara vs. Kent Kauppinen
Heavyweight Hesdy Gerges vs. Domingos Barros
Welterweight Kiefer Crosbie vs. Orlando D'Ambrosio
Middleweight Alen Amedovski vs. Ibrahim Mane
Lightweight Luca Vitali vs. Luka Jelcic
Preliminary card (Bellator.com and Bellator Mobile App)
Welterweight Andrea Fusi vs. Walter Pugliesi
Welterweight Georgio Pietrini vs. Nemanja Milakovic
Bellator Kickboxing 11
Featherweight (Kickboxing) Gabriel Varga (c) vs. Shan Cangelosi
For the Bellator Kickboxing Featherweight Championship
Welterweight (Kickboxing) Raymond Daniels vs. Zakaria Laaouatni
Non-title fight
Welterweight (Kickboxing) Karim Ghajji vs. Yuri Bessmertny
Catchweight (176 lbs) (Kickboxing) Gabriele Casella vs. Dani Traore
Featherweight (Kickboxing) Tiziano Campus vs. Younes Rahmouni
Catchweight (158 lbs) (Kickboxing) Christian Zahe vs. Samuel Toscano
Bellator Kickboxing 11 Preliminary card
Welterweight (Kickboxing) Sabir Temirkhnov vs. Matteo Costa
Lightweight (Kickboxing) Giacomo Licheri vs. Filippo Solheid
Flyweight (Kickboxing) Matteo De Luca vs. Giacomo D'Aquino
Background

The event will feature a light heavyweight bout between Alessio Sakara and Kent Kauppinen as the main event. A title fight between current Bellator Kickboxing featherweight champion Gabriel Varga and Shan Cangelosi was also announced for the card.

On October 30, 2018, a welterweight bout between Kiefer Crosbie and Orlando D'Ambrosio was announced on this event.

A lightweight bout between Italy's Luca Vitali and SBG Ireland prospect Luka Jelcic was added to the event.