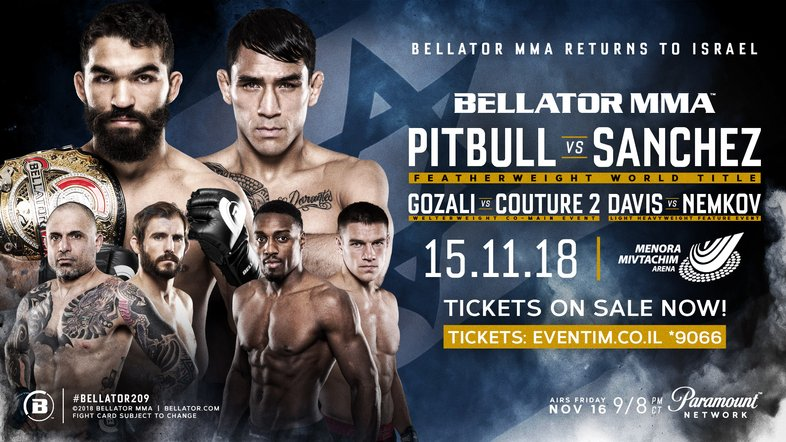 Bellator 209: Pitbull vs. Sanchez is scheduled to take place on November 15, 2018 at the Menora Mivtachim Arena in Tel Aviv, Israel. The event will be broadcast on TV November 16.
Fight card

Main card
Featherweight Patrício Freire (c) vs. Emmanuel Sanchez
For the Bellator Featherweight Championship.
Welterweight Haim Gozali vs. Ryan Couture
Light Heavyweight Phil Davis vs. Vadim Nemkov
Women's Featherweight Cindy Dandois vs. Olga Rubin
Heavyweight Adam Keresh vs. Kirill Sidelnikov
Preliminary card (Bellator.com and Bellator Mobile App)
Lightweight Ido Halfon vs. Itay Tratner
Light Heavyweight Nisim Rozalis vs. Nika Ben Tuashy
Featherweight Roy Peretz vs. Itzik Rubinov
Welterweight Shimon Smotritsky vs. Matan Levi
Welterweight Fadi Haiyadre vs. Christos Nicolaou
Light Heavyweight Ram Banano vs. Natan Borovytskyi
Featherweight Honor Kelesh vs. Andrey Barberoshe
Women's Strawweight Yulia Sachkov vs. Viktoria Makarova
Featherweight Kirill Medvedovsky vs. Denis Palancica
Bantamweight Ejargew Tariku vs. Sidemar Honorio
Welterweight Jackie Gosh vs. Jamil Ibragimov
Welterweight Khonry Gracie vs. Avi Baron
Lightweight Aviv Gozali vs. Anton Lazebnov
Background
The event will feature a bout for the Bellator Featherweight Championship between champion Patrício Freire and Emmanuel Sanchez.

Haim Gozali will fight Ryan Couture at the event. The two met at Bellator 180 where Couture won by a unanimous decision.

On August 20, 2018, it was reported that Olga Rubin is scheduled to meet Cindy Dandois at this event.

The event will feature Vadim Nemkov coming off a spectacular win over former Bellator Light Heavyweight Champion Liam McGeary as he returns to face former Bellator Light Heavyweight champion Phil Davis.