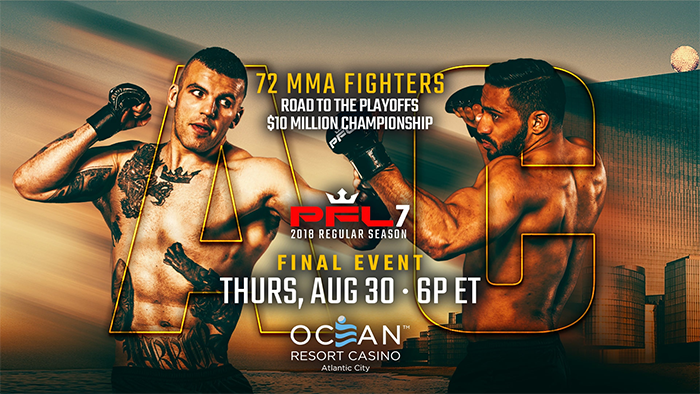 PFL 2018_7: Rama vs. Abdallah is a mixed martial arts event scheduled to take place on August 30, 2018 at the Ocean Resort Casino in Atlantic City, New Jersey, United States.
Fight Card

Main Card (NBCSN)
CardSmealinho Rama vs. Jamie Abdallah 205 lbs
Bazigit Atayev vs. Sean O'Connell 205 lbs
Alexandre Bezerra vs. Magomed Idrisov 145 lbs
Paul Bradley vs. Anderson Ferreira 170 lbs
Caio Alencar vs. Mike Kyle 265 lbs
Preliminary Card (Facebook)
Caio Magalhães vs. Sadibou Sy 185 lbs
Jason Butcher vs. Emiliano Sordi 205 lbs
Mo De'Reese vs. Leroy Johnson 265 lbs
Saidyokub Kakharamonov vs. Omar Nurmagomedov 135 lbs
Robert Hale vs. Ramazan Kuramagomedov 170 lbs
Jason High vs. Johnny Case 155 lbs
Background
This is the last event of the PFL 2018 Regular Season. Next event is the start of the Playoff's.

Click to see stats
Aug 28 - Updated fight card & background