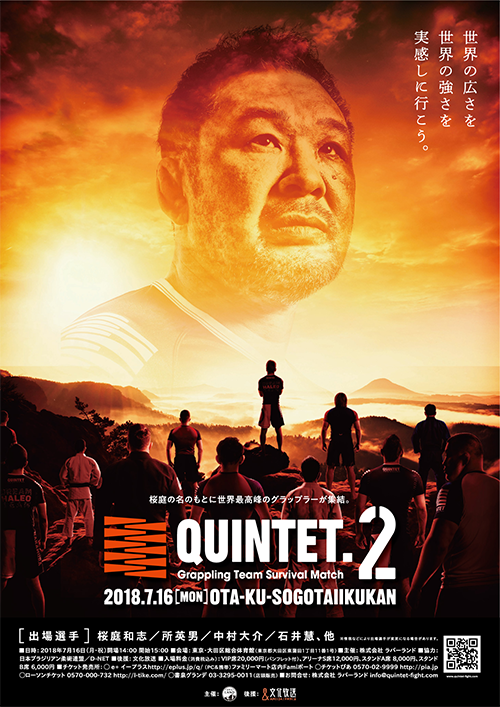 Quintet Grappling: Quintet 2, also known as Kazushi Sakuraba's Quintet 2, is a grappling event scheduled to be held July 16, 2018, at the Ota Ward Gymnasium in Tokyo, Japan.
Fight Card (UFC Fight Pass)

Tournament Teams
Team Sakuraba
Kazushi Sakuraba
Hideo Tokoro
Daisuke Nakamura
Yoon Dong-Sik
Haisam Rida
Team 10th Planet
Richie Martinez
Amir Allam
Geo Martinez
Adam Sachnoff
PJ Barch
Team VAGABOND
Satoshi Ishii
Andrei Kazusionak
Joao Assis
Krzysiek Suchorabski
Mikheil Dopidze
Team Tiger Muay Thai
Stuart Cooper
Christophe Vanddijck
Alex Schild
Tarek Suleiman
Viking Wong
Background
Teams of five compete in knockout brackets against each other on each event. Teams consists of 5 men, and together they must weigh under 430 kg. There is no judgement, only submissions. The matches are 8 minutes, unless there's a weight difference of 20kg or more, then it's halved. The winner of a match stays in to fight the next opponent's selection. The event will be streamed live on AbemaTV and UFC Fight Pass.