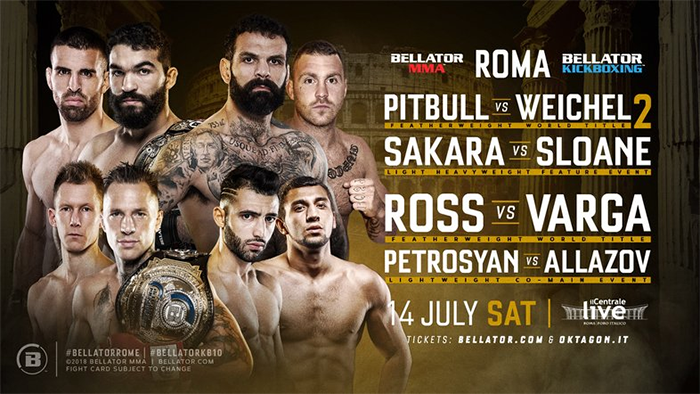 Bellator 203: Pitbull vs. Weichel 2 is scheduled to take place on July 14, 2018 at the Foro Italico in Rome, Italy.
Fight card

Main card (Paramount Network)
Featherweight Patricio Freire (c) vs. Daniel Weichel
For the Bellator Featherweight Championship.
Light Heavyweight Alessio Sakara vs. Jamie Sloane
Welterweight Andrey Koreshkov vs. Vaso Bakocevic
Lightweight Simone La Preziosa vs. Maxim Radu
Bantamweight Michele Martignoni vs. Simone D'Anna
Middleweight Will Fleury vs. Alen Amedovski
Bellator Kickboxing 10 fight card
Lightweight (Kickboxing) Giorgio Petrosyan vs. Chingiz Allazov
For the Bellator Kickboxing Lightweight Championship.
Featherweight (Kickboxing) Kevin Ross (c) vs. Gabriel Varga
For the Bellator Kickboxing Featherweight Championship.